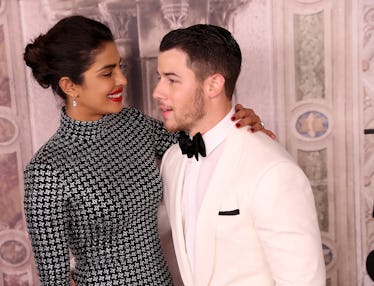 Nick Jonas & Priyanka Chopra's Wedding Body Language Says A Lot About Their Future
Rob Kim/Getty Images Entertainment/Getty Images
OK, guys, the deed is officially done! One of Hollywood's most talked about whirlwind romances has finally come to fruition with not one but two larger-than-life ceremonies in India. Needless to say, I'm talking about a certain American teen heartthrob-turned-solo-musician and a certain gorgeous Bollywood-actress-turned-Hollywood-starlet. And Nick Jonas and Priyanka Chopra's wedding body language tells us a lot about what was going on that special day, what their dynamic is like as a couple, and what their future looks like as a married duo.
Luckily for any anxiously awaiting fans out there, PEOPLE covered the wedding ceremonies extensively, complete with plenty of adorable pictures from the special day. One particularly adorable image of the two warmly embracing each other was featured as the cover image. What at first glance seems like just another cute wedding picture of a newlywed couple, actually tells us a lot about their relationship. No, seriously. Traci Brown, body language expert and author of Persuasion Point, and Patti Wood, author of SNAP: Making the Most of First Impressions, Body Language, and Charisma, spoke to Elite Daily and told us everything and anything there is to know about Chopra and Jonas's connection, based on the gorgeous cover image below.
Basically, there's one thing to learn here about the couple, above all else. Despite any doubts their quick engagement may have raised when it comes to the validity of their love, the couple is truly the real deal.
Both experts confirmed that the two of them are equally very into each other and that they're a couple who will last a very long time.
"I love how she has her torso and upper body facing towards and slightly pressed into him indicating her desire to give herself to him," explains Wood. "Her forehead and the side of her eye socket leaning on him says that he is of like mind and vision."
And that's not the only thing indicating that the two of them are totally and completely in sync. "Her 'look who I have to kiss' smile show she feels she has found a special man," continues Wood. "His head rest to her also shows he feels like minded, and combined with his soft tender and sensual gaze, I see how much he cares about her."
Brown also was able to take a way a similar message from the image. "I love this pic!" she exclaims upon first glance. "She's leaning into him and he's got his arms all the way around her. They seem glued together. So I'd say they have a great thing going and will last a long time. It's so nice to see couples that are equally into each other!"
Did you read that one sentence from Brown about their future?! Not only are the two of them totally and completely in love with each other right now, but their body language shows that they will be this happy and into each other for many years to come.
Congrats to the happy couple!