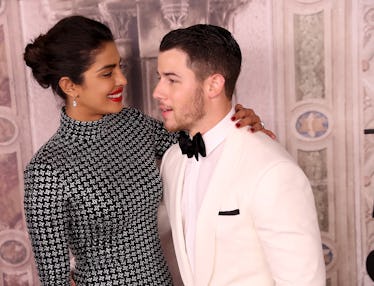 Nick Jonas & Priyanka Chopra Are Married & Their Wedding Was All About Family
Rob Kim/Getty Images Entertainment/Getty Images
Happy wedding week to Priyanka Chopra and Nick Jonas! While we know that the pair have been whisked away with family and friends to tie the knot in Jodhpur, India, a lot of fans were dying to know just how their dual ceremonies will play out. Of course, from what we've heard about what to expect from their traditional Indian-style ceremony, it will be unreal, but what about Nick Jonas and Priyanka Chopra's Christian wedding ceremony? Well, you guys, this couple clearly has pulled out all the stops for their wedding, because it was gorgeous on all levels.
Before the ceremonies even took place, fans had a few details about what they should expect. In her interview with Vogue, Chopra tells the magazine that they will have both a traditional Indian wedding ceremony, as well as a Christian service, officiated by Jonas' father, that would each be held in different spots at the Umaid Bhawan Palace in Rajasthan. With three days of celebrating their wedding, Chopra told Vogue, "People will need vacations after this wedding," adding, "Two very different cultures and religious backgrounds, and the beauty of it was, there was so much love and acceptance for our side."
Beyond sweet.
And now that we've finally gotten word about their Christian ceremony, I'm happy to report that it was everything they wanted it to be. On Saturday, Dec. 1, the couple both wore Ralph Lauren while exchanging vows at Umaid Bhawan Palace, as did all of the wedding party, according to People. And as previously reported, Jonas's dad, Paul Kevin Jonas Sr., officiated the ceremony, making it all about family.
According to Us Weekly, brothers Joe and Kevin Jonas, Games of Thrones star Sophie Turner, Danielle Jonas, Frankie Jonas, and Nick's mom Denise were also in attendance.
"It is super important to Priyanka to have an Indian ceremony that honors her heritage and culture, just as it's important to also have a Western ceremony that honors Nick's Christian upbringing," an insider previously told People. "They are doing both."
The newlyweds' Indian ceremony is still coming up this weekend, so if you want to brush up on Priyanka Chopra and Nick Jonas' wedding itinerary, look no further.
According to The Knot, the couple reportedly started off the weekend's ceremonies with a Ganesh Puja, which is a prayer to bless the upcoming days of wedding festivities. After the puja, there was reportedly an all-women party, called a Mehndi, where all of the women gather at the bride's home get henna painted onto their hands and feet.
The next party that took place was called a Sangeet, where guests came to celebrate the soon-to-be newlyweds. And after that party was yet another party, because why the hell not?
The couple reportedly had a cocktail party on Friday, Nov. 30, as a way for guests to meet and mingle as well as a traditional Haldi ceremony, where Chopra would be covered in Haldi paste (a combination of turmeric, rose water, and chickpea flour) which is supposed to even out her (already perfect) skin tone before the big day.
It was only after all of those celebrations that the couple then made their everlasting love official at the Umaid Bhawan Palace on Saturday, Dec. 1. One day later on Sunday, Dec. 2, the couple will finally have their highly-anticipated Hindu ceremony, which means they basically will have had over 72 straight hours of non-stop celebrating their love.
And honestly, these two deserve it.
A huge congratulations to the new Mr. and Mrs. Jonas! We hope your marriage is as perfect as both of your faces are!