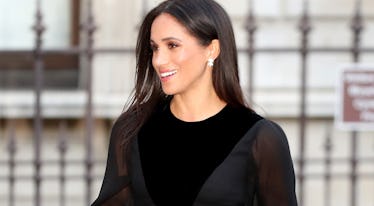 Meghan Markle's Black Givenchy Dress Just Made The *Long* Black Dress A Thing & I'm Here For It
Chris Jackson/Getty Images Entertainment/Getty Images
Is it a bold claim to say Meghan Markle looks good in everything? At this point, it's more of a bona fide fact — the Duchess of Sussex's effortless combination of beauty and personal style have allowed her to become a major fashion icon in just a short amount of time, and no, I'm not fan-girling, it's a cold, hard fact, like I said. If you need some proof, allow me to direct your attention to Exhibit A: Meghan Markle's black Givenchy dress, recently worn to a museum exhibit, which is now basically as iconic as all the art she was there to admire.
On September 25, Markle set out for the Royal Academy of Arts in London, to attend the opening of the Oceania exhibit, and apparently decided she had to look better than all the beautiful art in the museum. To pull off said task, she dressed to the nines in a detailed black number by Givenchy. Featuring a velvet V-front and sheer sleeves, the dress retails for a cool $3,300 at a shorter hem, but Meghan's style hits her at about mid-calf. Yup, you heard it here first: Meghan Markle has no time for the traditional LBD, or Little Black Dress. For fall and winter 2018, she's making the LBD (Long Black Dress) a thing, with a major slit down the front for good measure. Short people everywhere — myself included — are beyond shook.
Here's Markle strutting her stuff in her LBD:
To accessorize, she paired the dress with diamond earrings, a simple belt, some slingback heels, and a tiny clutch. All black, save for the diamonds, of course:
With the dress as the focal point of her ~lewk~, Markle kept everything else low-key, opting for her can't-fail makeup recipe of a neutral eye paired with radiant skin, freckles on full display, of course.
Also, in case you're out of the loop, Markle has recently ditched her signature messy bun and tousled waves for a sleek, straight look, which just so happens to be very on trend for fall:
Another cool thing about this look, other than the fact that it's completley gorgeous? The dress is by Givenchy, the brand that also designed Markle's wedding gown. Considering that dress was simple, white, and dreamy, it's quite fun to see Markle rock something from the brand that's basically the opposite. This time around, she's gone for detailed, black, and edgy, and once again, it totally works.
It's hard to believe that these two dresses share the same designer, but one things for sure: Markle looks absolutely stunning in both!
While most of us can't afford to shell out on a Givenchy dress of our own, we can totally take some pointers from Markle to incorporate into our own fall and winter wardrobes. Catch me stocking up on Long Black Dresses (not to be confused with the short LBDs of the pre-Markle era) as well as straightening my hair before any and all events. IMHO, Markle can do no wrong, so her fashion advice is always a safe bet.