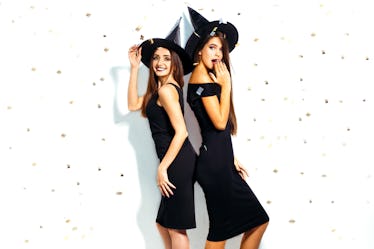 9 Cute & Creative Costumes You Can Make With Your Little Black Dress
xerox123/Fotolia
With spooky season in full swing, it's time to start planning out the perfect look for your Halloween costume. Wether you want to go all out, or keep it subtle this year, you can take advantage of what you already have in your closet. These little black dress costume ideas are sure to give you some inspiration for an easy and adorable costume.
The LBD is a closet classic that you can rock just about anywhere. Black goes with everything, so you can accessorize any way you want. Luckily, all you really need for an epic costume are some carefully thought-out accessories. Black is also a classic Halloween color, so a lot of your work is already done for you if you want to give off a dark, edgy vibe.
With a versatile piece such as the LBD as the base of your outfit, your possibilities are practically endless. No matter what kind of costume you want to pull off -- scary, sexy, funny, etc. -- you have tons of options. All you need to worry about are some accessories, and the plethora of Halloween stores all over the nation can make your search nice and simple. Here are some creative little black dress costume ideas to get your ideas flowing.
1. Holly Golightly In Breakfast at Tiffany's
If you're ready to rock that iconic look, Audrey Hepburn's role in Breakfast at Tiffany's is some classic inspiration. If you've got the dress, most of your outfit is already covered. All you need to complete this look is a pearl necklace, a pair of black gloves, and those adorable Breakfast at Tiffany's cat-eyed sunglasses.
2. Skeleton
If you're steady with a makeup brush, this is definitely the time to show off your skills. Some decent face paint is all you need to create this look, which you can find at any Halloween store. You can splurge on some face pigments from your fave cosmetic brand if you're thinking of rocking this sort of look again.
3. Playboy Bunny
This has to be one of the sexiest costumes ever. The Playboy bunny is an iconic look, and it's super simple to put together. To recreate this look, all you need is your LBD and a set of bunny ears and a bowtie.
4. Scary Doll
Here's another idea for the makeup gurus out there. The outfit itself is as simple as can be, and all the effort goes into what you put on your face. Tie your hair into pigtails, and you're ready to go.
5. Little Red Riding Hood
Little Red Riding Hood definitely has a red hood, but no one ever said anything about her not having a black dress. You can style your hair, makeup, and outfit basically any way you want and still pull off this costume. If you can find a red hood, you're practically ready for the big night.
6. Vampire
There's not necessarily one image of what a vampire should look like, so you can interpret as needed. You can't go wrong with wearing as much black as you can possibly find. Bonus points for wearing fake vampire teeth.
7. Witch
The witch is arguably the most classic Halloween costume there is. Witches are common in decor around this time of year, and many Halloween movies have at least one witch, so it's only natural to see a lot of witches on the night of October 31st. All you really need is a stylish witch hat, and you're ready.
8. Wednesday Addams
If you can find or DIY a white collar, you don't really need anything else for this costume. Odds are, you could probably pull off the look with just the dress and the pigtails if you can't find a collar at the last minute. This costume is simple, cute, and still festive.
9. Black Cat
The black cat is another Halloween classic that you can wear any way you like. To keep it simple, a pair of cute cat ears and your LBD will do. Feel free to dress it up if you want to be a super lavish kitty.
Check out the entire Gen Why series and other videos on Facebook and the Bustle app across Apple TV, Roku, and Amazon Fire TV.