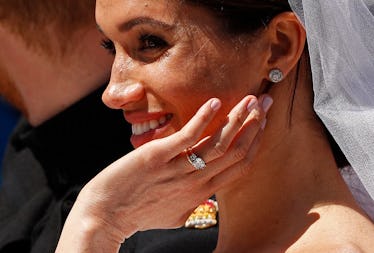 Rejoice, Because You Can Now Buy A Much Cheaper Replica Of Meghan Markle's Engagement Ring
WPA Pool/Getty Images Entertainment/Getty Images
As if we weren't all two seconds away from becoming Meghan Markle ourselves, thanks to the endless revelations of her beauty secrets, hair secrets, skincare secrets, and more, the royal family just made Meghan Markle transformations 10 times easier. Yes, now, you're essentially able to buy Meghan Markle's engagement ring for yourself. OK, OK, it's a replica, and it's ever-so-slightly different, but still. Close enough, right? We can't all be the Duchess of Sussex.
According to Elle, eagle-eyed fans of all things royal spotted a new addition to the online Royal Collection shop and immediately noticed this ring was inspired by Markle's engagement ring from Prince Harry. Both this replica and Markle's bling boast three stones on the top of the band, the larger of the three nestled between the other two identical stones. Markle's, however, features a gold band, while the Royal Collection shop ring, called the "Buckingham Palace Statement Ring," is silver all around.
Judging from a close-up photo, it also looks as though the center diamond shape of the replica is a bit more square than the real deal. Obviously, no ring will have Markle's exact diamond and shape, as her own ring is an incredibly expensive piece of jewelry with real AF diamonds that shine brighter than my future can ever hope to.
But even if the replica mimicked the exact shape of Markle's ring, it certainly wouldn't hold the same meaning. Harry revealed in the first interview he and Markle did with the BBC following their engagement that Princess Diana wasn't forgotten in this custom design. "The little diamonds are from my mother's jewelry collection to make sure she's with us on this journey," he said. Shut up. I'm not crying, you are.
Naturally, Markle was just as thrilled to know Diana played a part in all this. "It's so important to know she's a part of this with us and being able to meet his aunts [on Diana's side] and Julia [Samuel] and just other people who are so important to his mom, I'm able to know a part of her through him," she said in the same interview.
The main difference between the real ring and the replica, of course? The price tag. According to CNBC, experts say Markle's diamond bling could be well worth $350,000. (I got a little lightheaded just thinking about having that amount of money on my finger.) Meanwhile, the ring from the Royal Collection will only set you back £30 (which is about $40). A fun fact that absolutely nobody asked for: You could purchase 8,750 of the replica rings with the reported worth of Markle's own ring. IDK why anyone would ever want to do that, but do with that information what you will.
Even more, as noted on the Royal Collection shop's website, the band is adjustable, so everyone can have a Markle-esque moment. The brand also notes that you can pair the ring with a matching pendant and matching earrings, which cost £30 (about $40) and £25 (about $33), respectively.
As I mentioned before, we can cop Markle's beauty routine. We can cop her skincare routine. We can even cop her specific wedding day makeup. Now, don't mind if I cop her bling, too.