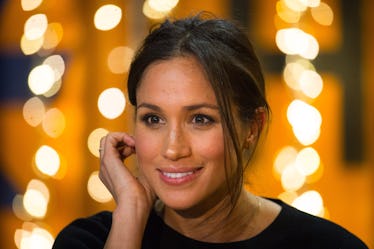 This One Step In Meghan Markle's Skincare Routine Sounds Silly, But It's Great For Your Face
WPA Pool/Getty Images Entertainment/Getty Images
Ever since I saw that radiant glow on her wedding day, I've been dying to know more about Meghan Markle's skincare routine. The Duchess of Sussex has admitted in the past that she wears very little foundation — in an effort to make sure her freckles are always visible — so it's pretty clear that she must have a go-to list of products and techniques to keep her skin looking so fabulous.
Now, while Markle herself hasn't released an all-encompassing list of the tips, tricks, and products she holds near and dear (but, TBH, that would be very helpful), Markle and those beauty experts close to her have, in fact, shared some useful tidbits over the years that we can piece together.
First thing's first: Markle knows when to leave it to the professionals. Nichola Joss, a London-based facialist who has worked with Markle in the past, shared that facials are a key to the former actress' routine.
"Facials are super important to Meghan, and then her daily at-home maintenance makes sure she has the best-ever skin," Joss told Vogue in May. "She's anti the mannequin look, as I call it. She likes effective natural products and treatments to de-stress and anti-age."
Prior to moving to the UK, Markle gave Glamour the inside scoop in 2014 as to where she went for her facial treatments.
Both the Shangri-La Toronto and the Miraj Hammam Spa were her top choices, according to the publication. Each uses products from natural, French skincare brand Caudalie, which she's a huge fan of.
OK, so now we know the Duchess' secrets when she wants to get some professional work done, but when she's come in from a full day of royal duties, what does she do at home? Well, the unexpected answer may actually surprise you.
Most of us have done exercises for our body, but what about exercising your face? It may sound silly, but Markle swears by it, according to Women's Health UK. And it may just be the secret to getting a perfectly sculpted face. "I regularly do facial exercises, I swear it works, as silly as you may feel," Markle herself told Birchbox.
Face yoga expert Danielle Collins told Women's Health UK that doing this activity once a day can boost blood circulation in your face.
"Face Yoga is simple, fun, and fits in to a busy lifestyle and most importantly gets results. You can do anything from two minutes to 20 minutes a day, depending on your schedule but the key is to keep it up regularly," Collins shared. "Doing face yoga daily means you will strengthen and lift your face muscles, boost collagen and elastin and relax tension from stress age expressions."
Now, onto some of Markle's fave products. Based on what she's shared over the years, there's a slew of products Markle swears by, some of which are quite affordable.
First up, good ol' tea tree oil. The California native told Allure back in July 2014 that she "cannot live without" it while traveling, which she's sure to do plenty of as part of her new royal duties. "It's not the most glamorous thing, but if you get a cut, a mosquito bite, a small breakout, no matter what it is, it's my little cure-all," she said to the glossy. "It's inexpensive, it's small enough to carry on, and I bring it with me all the time."
To cleanse and exfoliate, Markle also told Allure that she's a big fan of Tatcha's Polished Rice Enzyme Powder ($65, tatcha.com), which, when mixed with water, foams to soothe and throughly clean the skin, all without the use of rough abrasives.
When it comes to moisturizing, Markle told The Lady Loves Couture that she's a huge fan of Kate Somerville Quench Hydrating Face Serum ($75, katesomerville.com). According to TODAY, back in 2016, she also told Beauty Banter that Laura Mercier Radiance Foundation Primer ($38, lauramercier.com) gives her skin the perfect "dewy glow," so she can skip the foundation.
As far as seasonal skincare goes, the former Suits star hasn't shared much, but Dr. Peter Capizzi, of Capizzi MD, gave Elite Daily some insight into what Markle may do to switch things up between summer and winter.
"Meghan's skin appears to be very hydrated and vibrant, so during winter months, she most likely focuses on moisturizing," he says. "Our skin needs extra care during colder weather due to the lack of moisture in the air and exposure to indoor heat, which can dry our skin ... Skin renewal is just as important as exercise."
During the summer months, on the other hand, Dr. Capizzi believes she focuses on rejuvenating her skin.
"Meghan most likely shifts to brightening ... as temperatures rise," he explains. "For someone like Meghan who is constantly on the go, medical facials and laser peels are terrific options." He also adds that, during this time of the year, sunscreen is essential.
Now, if only we could convince Markle herself to do a master class on skincare!