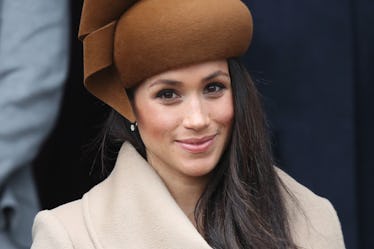 The Secrets Of Meghan Markle's Glowing Skin Have Been Revealed & They're Intense
Chris Jackson/Getty Images Entertainment/Getty Images
Meghan Markle and Prince Harry aren't tying the knot until May, but I can tell that Markle will fit her new royal title perfectly. People have already started emulating her bouncy hair and stylish wardrobe. Another quality that makes Markle stand out even more is her flawlessly smooth skin. Before you start crediting her skin to good genes (which may or may not be true), you have to check out her skincare tips. The former Suits actress works for that glowing skin. Meghan Markle's skincare tips are already fit for a princess, but I think a commoner like myself will definitely be taking notes.
Markle's facialist Nichola Joss is one of the top recruits during award show season, and Markle has openly credited her as the muse behind her impossibly sculpted cheekbones and razor-sharp jawline. Word is that the London-based skin guru has already started to prep Markle's skin for her wedding that is less than six months away on May 19, 2018.
While that may seem like overkill, you may want to consider this process for your own wedding or big event. It's actually just the right amount of time to heal the skin and have it look Markle-level flawless.
Apparently, applying that witch hazel face mask from the drugstore a week before your big event won't cut it. Joss explained to Marie Claire,
If you have troublesome skin, and you need some corrective work, like if you have acne or scarring, you need to start working on a routine at least four or five months before the big day, seeing your facialist every two weeks to get your skin in the best condition you can ... Eventually cut it down to every three weeks, but you should still be getting regular massages between those appointments.
Wait, massages? Does Prince Harry give Meghan Markle daily shoulder massages? I mean, probably, but Joss is actually referring to facial massages.
The skincare expert encourages everyone to regularly massage their face with facial oil to remove tension and improve texture. She said,
You want to start getting regular massages from the beginning of your skincare journey, since it not only helps remove the tension in the face, but it also really helps improve the texture of when you massage with a good, clean facial oil.
Since there are about a million facial oils to choose from, one affordable option recommended by Joss is Collistar Sublime Black Precious Serum. It's under $40 on Amazon and promises to brighten your skin.
The reason to start aggressively treating your skin up to six months prior to an event is because you'll need to switch to light and gentle care about eight weeks before your big day, Joss says. This means by March, Joss will have Markle focusing on keeping her skin calm and hydrated until her wedding in May.
She explained,
Anything corrective, like acid peels, intense microdermabrasion, or laser treatments, should be done between three-to-five months before the wedding, but not closer ... The last two months before your wedding should be focused on getting calmer, more hydrated skin, rather than getting more aggressive with your face, since corrective treatments can require a ton of downtime and healing.
This should continue until the actual day of the event, as well. Joss continued,
This is the time where you want to be really gentle with your skin and use only simple, nourishing products, like a hydrating mask, a soft massage, and a cryo treatment.
Since we're not all Meghan Markles and probably don't have a cryo person at our fingertips (at least I don't), Joss recommends using a facial roller that has chilled in the freezer. Literally going to Amazon now to buy this Joss-approved jade roller for $25.
Overall, the massages and facials are great, but Joss encourages clients to just take care of your skin — don't pop your zits (as tempting as it may be), wash your makeup off every night, and hydrate. It looks like the key to achieving Meghan Markle's glowing skin is a little effort... and a lot of massaging.
Check out the entire Gen Why series and other videos on Facebook and the Bustle app across Apple TV, Roku, and Amazon Fire TV.