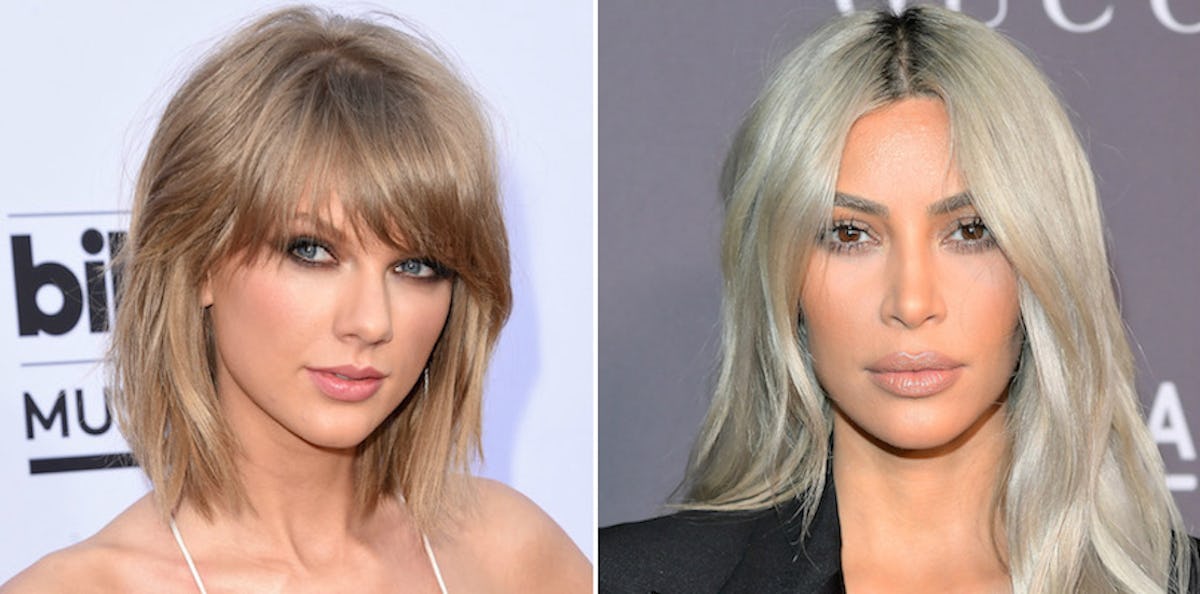 Here Are All The Brutal Social Media Exchanges Between Kim K & Taylor Swift
Jason Merritt/Charley Gallay/Getty Images
Celebrity relationships and friendships are a rare breed. These famous faces have their lives played out in front of the masses, whether it's the good, the bad, or the straight-up shady. In Elite Daily's new series, It's Complicated, we're highlighting the biggest celebrity "feuds" that took over Hollywood and dominated our Sunday brunches for weeks on end. We'll take a deep dive into the lives and social media feeds of our favorite stars and dissect what happened in front of the camera, what went down behind the scenes, and everything you might have missed in between.
Kim Kardashian and Taylor Swift have a long and rocky history. The two haven't been on good terms for years, even though the source of their feud happened before Kim Kardashian and Kanye West were even together. We all remember when West made his infamous "Imma let you finish" speech at the 2009 VMAs. It created years of (justified) unrest between him and Swift, then when Kardashian and West got together, the feud escalated and Kardashian got involved. Once she did, our timelines were filled with Kim Kardashian and Taylor Swift's social media exchanges, and they were brutal. So brutal, in fact, the feud seemed to be one of the reasons Swift took a social media hiatus for most of 2017.
In August of 2017, we learned Taylor Swift had created Reputation while she was away from the public eye. She made it clear from the get-go that the album would discuss the Kimye feud by posting videos of a cryptic snake on her Twitter and Instagram. (Kardashian fans took to calling Swift a snake after Kim Kardashian exposed her for seemingly lying about her knowledge of the song "Famous.") Before those snake videos were ever created, though, Taylor Swift deleted everything from her social media. Twitter, Instagram, the works. But luckily, screenshots never die, so here's a roundup of Kim Kardashian and Taylor Swift's most brutal social media exchanges:
1. July 17, 2016: Kim Kardashian exposed Taylor Swift for seemingly lying about her knowledge of the reference to her in "Famous."
Ahhh, the Snapchat that started it all. (Well, this part of the feud, at least.) On July 17, 2016, Kim Kardashian posted a video of Kanye West on the phone with Taylor Swift where West essentially asks Swift for permission to reference her in the song "Famous." The video shows West on speaker phone with Swift on the other line, and West is reading the lyrics to his song "Famous" to her. The lyrics referencing Swift go, "For all my Southside n****s that know me best, I feel like me and Taylor might still have sex. Why? I made that b*tch famous (Goddamn). I made that b*tch famous."
In the video, Swift says over the phone with West, "I mean, go with whatever line you think is better. It's obviously very tongue in cheek either way. And I really appreciate you telling me about it, that's really nice." Kardashian posted this video on her Snapchat after Swift publicly voiced her disapproval of the line "I feel like me and Taylor might still have sex." Kardashian's video made it clear Swift knew about and approved of the song before it was released, and people on Twitter started calling her a snake as a result.
2. July 17, 2016: Kim Kardashian tweeted about "National Snake Day."
On the same day Kardashian exposed Swift on Snapchat, a bunch of people on Twitter started using the phrase "Taylor Swift is a snake." People were also jokingly referring to the day as National Snake Day, and Kardashian responded to all of the snake talk in a tweet that said, "Wait it's legit National Snake Day?!?!? They have holidays for everybody, I mean everything these days!" with a bunch of snake emojis. When she said "everybody," it's no surprise to see why so many people thought she meant Swift.
On July 17, 2017, the one-year anniversary of Kardashian posting the video of West and Swift's "Famous" phone call, people on Twitter were remembering the video and "National Snake Day." It's important to note that July 17 isn't actually a holiday for celebrating snakes... this was just shade. Kardashian fans thought this was hilarious, and Swift fans thought the shade was too much. When people first started calling Swift a snake, lots of people left snake emojis all over the comments sections of Swift's Instagrams. They posted so much, Swift used an Instagram tool to block the emoji from being commented on her posts. Kim Kardashian ended up using this same feature, but more on that later.
3. July 18, 2016: Taylor Swift responds to Kardashian's Snapchat story on Twitter.
Oof, this one was a doozy. The above tweet (that has since been deleted) was Swift's reaction to Kardashian posting a video of her phone call with Kanye West on July 17, 2016. Swift responded to Kardashian's post and the backlash on Twitter on July 18, 2016, saying,
Where is the video of Kanye telling me he was going to call me 'that b*tch' in his song? It doesn't exist because it never happened. You don't get to control someone's emotional response to being called 'that bitch' in front of the entire world. Of course I wanted to like the song. I wanted to believe Kanye when he told me that I would love the song. I wanted us to have a friendly relationship. He promised to play the song for me, but he never did. While I wanted to be supportive of Kanye on the phone call, you cannot 'approve' a song you haven't heard. Being falsely printed as a liar when I was never given the full story or played any part of the song is character assassination. I would very much like to be excluded from this narrative, one that I have never asked to be a part of, since 2009.
People weren't buying Swift's response to Kardashian's Snapchat. Many felt the above statement came off as Swift trying to save face after essentially being caught redhanded.
Kardashian's Snapchat was arguably the biggest part of Kardashian and Swift's feud, since it was the moment that set the tone for the exchanges to come. For basically the rest of 2016, Swift was frequently referred to as a snake by Kardashian fans. Swift took a social media hiatus after the controversy surrounding the video, and when she came back, she deleted everything from her social media, wiped her website clean, and began her marketing campaign for Reputation.
4. Aug. 21, 2017: Taylor Swift starts posting snake videos teasing the release of Reputation.
After over a year of being called a snake by hardcore Kardashian fans, Taylor Swift deleted everything from her social media and one week later posted a cryptic video of a snake. She was basically like Jafar at the end of Aladdin, when Aladdin calls him a snake, and Jafar's all like, "A SNAKE, am I??" and then turns himself into a giant snake. That's literally all I can think about whenever I watch these videos.
Anyways, moving on!
Swift's snake videos had her fans screaming because she was doing what they had been doing over the last year: taking the snake insult and reclaiming it as a means of empowerment.
Swift basically took the insult people used to troll her with and made it the face of her new album's marketing strategy. Swift reclaiming the snake and using it for herself prompted Swifties to flood Kim Kardashian's Instagram comment sections with snake emojis, just like Kardashian's fanbase did to Swift previously. Kardashian ended up using the same Instagram tool Swift used and blocked people from being able to comment the snake emoji on her posts. What goes around, comes around, I guess? Swift has really ran with the snake theme ever since the first snake videos were posted on Aug. 21, 2017.
This isn't exactly a social media exchange, but it's listed here because the entire song addresses Swift's feud with Kardashian and West and their battleground was social media, so it counts. Taylor Swift dropped "Look What You Made Me Do," the first song off of Reputation, on Aug. 24, 2017, just three days after the first snake video was posted on Instagram and Twitter. Her website was also wiped completely clean when she cleared out her social media, and after the release of this song, the intentions behind that were made clear. She was ushering in her new album, and fans lost it.
The "Look What You Made Me Do" lyrics seemingly referenced Kanye West in the very first line of the song. Swift sings, "I don't like your little games. Don't like your titled stage." West had a floating stage with the ability to tilt in different directions for his St. Pablo tour. It's pretty hard to think of anything else Swift could be referencing with that line. Elite Daily reached out to Swift's team for comment, but did not hear back by time of publication. She continues, "The role you made me play. Of the fool, no, I don't like you. I don't like your perfect crime. How you laugh when you lie. You said the gun was mine. Isn't cool, no, I don't like you." That "you laugh when you lie" line is seemingly about the phone call that started it all. West and Swift had a positive exchange on that phone call about "Famous," but Swift felt cheated afterward because she didn't know it was recorded and didn't approve of how it was used against her.
There are also lots of tiny references to Kimye in the "Look What You Made Me Do" music video, like when Swift is sitting in a bathtub full of jewels. Some people thought this was Swift mocking the time Kim Kardashian was robbed at gunpoint. (Kardashian was robbed in a hotel in Paris in October of 2016. She was reportedly tied up and put in a bathtub while the criminals stole thousands of dollars-worth of her jewelry, including her engagement ring.) Elite Daily reached out to Swift's team for comment but did not hear back. A lot of people thought it was terribly insensitive of Swift.
But this was most likely a reference to things tabloids have said about Swift in the past. In a 2014 statement talking about her "Blank Space" music video, Swift explained the inspiration behind the character she played in the video and how it was based on things tabloids said about her and her relationships.
She said,
Every article was like, 'Taylor Swift Standing Near Some Guy—Watch Out Guy!' Every single article was kind of like, had these descriptions of my personality that were very different than the actual personality. My first reaction was to be like, 'Man that's a bummer. This isn't fun for me.' But then my second reaction ended up being, 'Hey, that's actually kind of an interesting character they're writing about.' She jet-sets around the world collecting men, and she can get any of them! But she's so clingy that they leave, and she cries! And then she gets another one in her web and she traps them and locks them in her mansion. She's crying in her marble bathtub surrounded by pearls.
A "marble bathtub surrounded by pearls" is almost exactly what Swift is laying in in that particular scene in the "Look What You Made Me Do" music video, so no, it's most likely not a reference to Kim K's robbery. She was most likely making fun of tabloids and herself, like she did with a lot of the Reputation marketing.
Outside of this particular reference, however, "Look What You Made Me Do" totally throws shade at Kim and Kanye, as does a lot of Reputation. The album is all about Swift's ~reputation~ during and following her Kim and Kanye feud. It was during the aftermath of the feud that she started dating actor Joe Alwyn, whom the album is also largely about. Kim Kardashian never addressed any of the references to her and her husband on Reputation, but here's hoping we never have to see anymore brutal Kim Kardashian and Taylor Swift social media exchanges ever again.