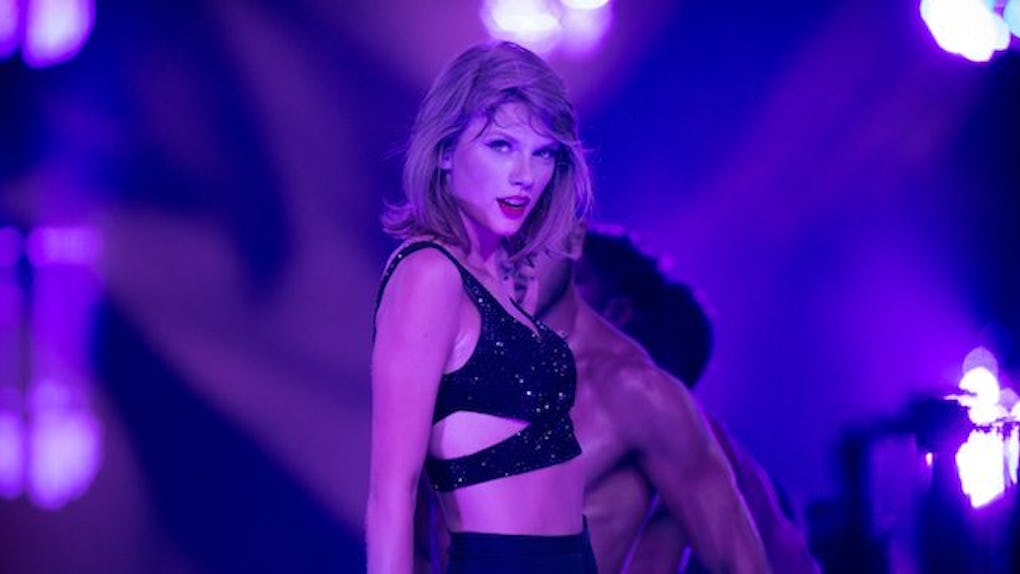 Christopher Polk/Getty Images for TAS
Taylor Swift Mocks Kim Kardashian's Robbery In New Music Video, According To Fans On Twitter
The 2017 VMAs were on Aug. 27, 2017, and Taylor Swift shocked millions of people across the globe with the release of her new video and single, "Look What You Made Me Do." Swift is notorious for writing love songs about ex-lovers, but this time she's out for revenge for all of those who did her wrong. Watch out, world! Hurricane Swift is coming through, and she's not going away. So, what did the music video mean? Many believe it was an ode to all of her enemies, including Kim K. Fans even think Taylor Swift mocks Kim Kardashian's robbery in her latest video and it's pretty messed up if it's true.
Kim K was robbed at gunpoint, put into a bathtub, and robbed of 10 million dollars worth of jewelry. Swift's video features a shot of herself relaxing in a bathtub filled with diamond jewelry and a handful of rings, which many believe is all about Kardashian's robbery in Paris. So, did Swift intentionally create a similar scene? Bathtub, check. Jewelry, check. Gun, check (Taylor did a hand signal of a gun in the video). I'd say Swift is trying to make some sort of bold statement with that scene. The Swift and Kim K drama is just too good.
The Twittersphere is basically on the verge of collapse because all of this T. Swift drama is slowly breaking the internet one tweet, video release, and album cover art at a time.
See her gun?
Yes, they did.
Yikes. Some people are not happy about the Swift video. Like, not happy at all.
Let's all hope it was a coincidence.
Just a bit too far.
I'm scared. Twitter is angry. Really angry.
Remember back in October 2016, when people thought Swift had something to do with Kim K's robbery? Yes, it went there.
So, will the T. Swift and Kim K drama ever end? Apparently not anytime soon. The music video is proof Swift isn't afraid to bring out the big guns, and they're big.