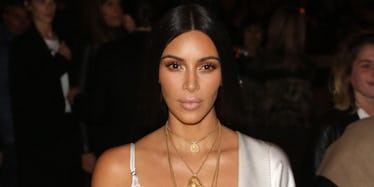 Kim Kardashian Is Contemplating Returning To Paris After 2016 Robbery
REX/Shutterstock
While Kim Kardashian seems to have come out of her shell following her traumatic experience in Paris last year, it still remains unclear whether or not the star is ready to return to the "city of lights."
On October 3, 2016, the 36-year-old star had been inside of her room at the luxurious No Address Hotel when she was robbed at gunpoint by several masked assailants.
The thieves were able to make off with an estimated $10 million worth of precious jewels belonging to Kardashian. Following the robbery, the "Keeping Up with the Kardashians" star was so traumatized, she decided to keep a low profile for months.
When she was spotted out and about in Los Angeles after the robbery, she was nearly unrecognizable. Hey, I don't blame her -- especially since it was just last month law enforcement in Paris began arresting suspects.
That means her robbers were still running free for months after she was robbed. I'd be chilling in bed all day, too!
Since the robbery, Kim has been more active and less shielded from society. She was recently in New York City with husband Kanye West as the rapper debuted his new Yeezy Season 5 collection with Adidas.
As you probably already know, Paris Fashion Week will follow, but will Kim Kardashian be ready to return to Paris following the traumatic robbery?
According to People, Kim Kardashian is contemplating whether or not to return to Paris. Kendall Jenner, Kim's younger half-sister, is set to walk the runway during Paris Fashion Week and she probably wouldn't want to miss that.
Just five months after the robbery, Kim is faced with a big decision. Will she make the trip alongside her family (including Kanye) or will she hang back and play it safe?
It's hard to tell. A source close to Kim spoke to People revealing Kanye is certainly interested in making a trip overseas for Paris Fashion Week later this month. As for Kim, she's still on the fence.
We'll just have to wait and see.
The good news is Kim and Kanye are said to be doing better following their drama-filled finish to 2016. The same source told reporters,
They seem to be doing much better. They have fun together again. The struggles that they had for the past few months seem to have mostly past.
That's a good sign if you're attending PFW and hope to see Kim K!
Citations: Kim Kardashian Could Return To Paris For Fashion week 5 Months After Robbery, Source Says (People)