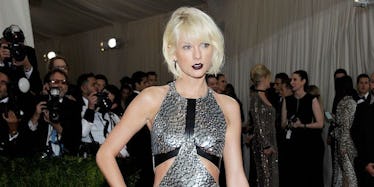 Taylor Swift Dropped Her New Single "Look What You Made Me Do" & Fans Are Losing It
Rabbani and Solimene Photography / Getty Contributor
Taylor Swift has literally rocked my world within 48 hours. First, she falls off the face of the earth for like a year. Then, she starts mysteriously popping up with rumored boyfriend, Joe Alwyn. Finally, on Aug. 23, Taylor Swift wiped the slate clean by shutting down her website and clearing her social media accounts in order to announce her newest album — Reputation. The internet basically broke, but Swift wasn't done there. Just one day later, on Aug. 24, she dropped her first single in almost three years. DEEP BREATHS, FAM. Taylor Swift's new single is "Look What You Made Me Do."
The full Reputation album will be released on Nov. 10. Until then, we will just have to jam out to this single over and over. When it comes to albums, Swift definitely knows what she's doing.
She announced Reputation in the most extra way possible. During the week of Aug. 20, Swift started teasing fans on Instagram with a series of videos — all of which fit together to show a snake. On Aug. 23, Swift dropped three Instagram photos back-to-back. One read, "FIRST SINGLE OUT TOMORROW NIGHT." The next was Swift's Reputation cover art that featured the singer rocking slicked-back hair with black-and-white newspaper and magazine writing over her face. The final picture was one that read, "Reputation, THE NEW ALBUM FROM TAYLOR SWIFT, NOVEMBER 10." OK, Swifty, I see you.
Swift's chain choker may be too tight around her neck, but she's coming for you. Who? I'm not exactly sure. Fans on Twitter are betting this album will be Swift's clapback to Kim Kardashian and Kanye West.
Others are guessing that part of Swift's album will throw shade at Katy Perry. Swift announced her new single's release date the same day Perry unveiled her "Swish Swish" video. Coincidence? THERE ARE NO COINCIDENCES IN HOLLYWOOD.
As far as we know, Swift has put out one sizzling single. We'll have to wait to investigate the rest of the album when Reputation is released on Nov. 10. All I can say is that I'm so, so happy to have Taylor Swift back in my life. #Blessed