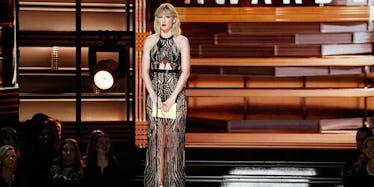 Twitter Can't Stop Roasting Taylor Swift's 'Reputation' Cover Art For This Reason
Taylor Hill / Getty Contributor
Taylor Swift may have been out of the spotlight for a while, but it seems Twitter still isn't over roasting her for anything and everything she does. The artist has been teasing us on Instagram all week about a big project coming up, and now we know what it is. Swift is dropping a new single on Thursday, Aug. 24 and her new album Reputation is coming in November. We even got a peek at Taylor Swift's Reputation cover art, but fans can't help but take to Twitter to roast her outfit.
Over the past few days, Swift has been teasing everyone with a series of videos on her Instagram, all of which fit together to show a snake. Then, on Wednesday, Aug. 23, Swift dropped three Instagram photos back-to-back. One read, "FIRST SINGLE OUT TOMORROW NIGHT." The next was a picture of the cover for her new album, Reputation, which shows Swift in black and white with newspaper and magazine writing over her face. The final picture was one that read, "Reputation, THE NEW ALBUM FROM TAYLOR SWIFT, NOVEMBER 10."
The new album cover, which dropped Wednesday, Aug. 23, definitely gives off an edgy vibe. Swift looks badass, and the newspaper and magazine writing that sits over her face has major similarities to Kanye West's The Life Of Pablo. I live for the subtle shade.
In the photo, we see Taylor in black and white, with her hair slicked back, wearing an off-the-shoulder sweatshirt (that seems to have holes in it? Gurl, you rich, buy a new one!) and a metal chain choker. Now, this would all be fine and dandy, except for the fact that the choker legitimately looks like it's suffocating Swift's neck. I have anxiety a little bit just looking at it, sorry Taylor!
Fans were quick to point out the super-tight choker.
Other fans had ideas about what the choker means for Taylor's image.
Whatever the reason, I'm down with it, T-Swift. Just please, loosen it a little for all of us? TYSM.
Swift is set to drop her first single from the new album on Thursday, Aug. 24, and her full album Reputation will be out on Nov. 10.