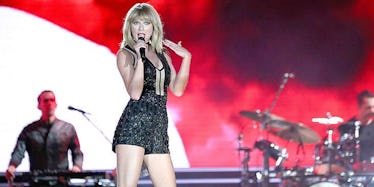 This One Detail On Taylor Swift's New Album Cover Could Be A Diss To Kanye West
Gary Miller / Getty Contributor
OMG, THE WORLD IS ENDING. Just kidding, Taylor Swift announced she's dropping a new album, but it sure feels like the world is ending. Taylor's new album Reputation is coming Nov. 10, and she released the cover art on Instagram. Within the first few minutes, fans couldn't help but make the connection that Taylor Swift's Reputation cover looks like Kanye West's The Life Of Pablo.
Over the past few days, Swift has been teasing everyone with a series of videos on her Instagram, all of which fit together to resemble a snake, slithering and hissing at the screen. Fans knew something big was coming. Then, on Wednesday, Aug. 23, Swift dropped three Instagram photos back-to-back. One read, "FIRST SINGLE OUT TOMORROW NIGHT." The next was a picture of the cover for her new album, Reputation, which shows Swift in black and white with newspaper and magazine writing over her face. The final picture was one that read, "Reputation, THE NEW ALBUM FROM TAYLOR SWIFT, NOVEMBER 10."
Ok, I literally cannot breathe. How could you hit me with this all at once, Taylor?! Anyway, fans were quick to notice that the Reputation album cover gives off some serious Kanye vibes. That same text overlay technique that Taylor used is literally what people know the TLOP album for. The font that says Reputation looks seriously similar to the one Kanye used for his TLOP tour merch.
Here's a picture of Kanye's album:
And here's a picture of Taylor's new album:
Fans cannot handle the similarities.
Hmmmm. Kanye, what do you have to say about this?
I cannot wait to hear what kind of diss tracks Swift has on this album. Between her feud with Katy Perry and the whole Kanye West/Kim Kardashian drama, there's gotta be some juicy stuff on here. We won't have to wait long to find out -- her first single drops on Thursday, Aug. 24.