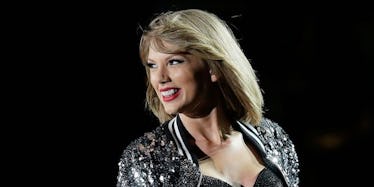 Fans Think Taylor Swift Is Dropping A New Album & The Reason Is Pretty Legit
Mark Metcalfe/Getty Images
Taylor Swift completely blacked out her social media accounts on Friday, Aug. 18, 2017, and you know what that means? Taylor Swift might be dropping a new album. I mean, there must be a reason. We've got to know. So, is Taylor Swift dropping a new album? Fans think so.
The sudden blackout came exactly three years after the announcement of the Grammy winner's most recent album, 1989. That could mean Swift is preparing to release new music. Fingers freakin' crossed! It's been three years!
Swift has been all up in the spotlight lately. The pop singer recently ended a groping trial against former radio DJ David Mueller and won. Go Swifty. Besides this, she's remained relatively quiet in the media. However, Us Weekly revealed in May that Taylor Swift has been quietly recording a new album. Boom. This could the reasoning behind the social media blackout, you guys! An insider told Us Weekly,
She's aiming to release an album this fall. She's continuing down the pop route because 1989 was a huge success and fans really gravitated toward that album. She knows there's a demand for a new album and has really started focusing on making that happen for fans. She's just excited to get back out there.
Fans on Twitter believe new music is on the way. In fact, they believe a whole new Swift era is about to embark upon us. The hashtag #TS6IsComing is now officially trending... and it's not going away.
Trending worldwide, y'all.
We are all waiting, Taylor!
Tell us already!
She's scheduled to be on Good Morning America Saturday. Aug. 19. So... there's that.
Taylor Swift, you've really figured it out. Who else could create such intense anticipation and wonder about an Instagram account being deleted? If this sudden social media blackout means nothing, I won't be OK. We need new Swifty music, and we need it now.