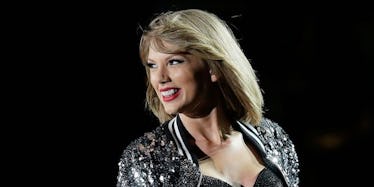 Taylor Swift Won Her Groping Lawsuit Trial And Fans Are Cheering So Hard
Mark Metcalfe/Getty Images
It's official: Taylor Swift has emerged victorious in her lawsuit against former radio DJ David Mueller. On Monday, Aug. 14, a jury of six women and two men ruled in favor of Swift, who had accused Mueller of groping her at a meet-and-greet in June 2013. And now, tweets about Taylor Swift's groping trial win are taking off, as fans congratulate her on standing strong about sexual harassment.
Swift was suing Mueller for a nominal $1 in damages in a countersuit to a lawsuit he brought against her, alleging that she got him fired from his lucrative job as a radio host in Denver, Colorado. Swift said that at the 2013 meet-and-greet, Mueller reached under her skirt and grabbed her butt. Mueller, for his part, denied he ever groped Swift, and accused her of ruining his career with a false accusation.
After the ruling, Swift shared an emotional statement, thanking the judge and her legal team for fighting for her "and anyone who feels silenced by a sexual assault," according to CNN. She added,
I acknowledge the privilege that I benefit from in life, in society and in my ability to shoulder the enormous cost of defending myself in a trial like this. My hope is to help those whose voices should also be heard. Therefore, I will be making donations in the near future to multiple organizations that help sexual assault victims defend themselves.
Fans are so proud of Swift for standing up for herself and other victims of sexual harassment.
And they are definitely letting her know.
Fans were also out and about during the trial to let Swift know they were there to support her.
A window across the street from the courthouse posted supportive messages (with literal Post-its!) for Swift throughout the trial. Many of the messages used Swift's own lyrics and song titles to boost her spirits.
Swift — who is, you know, a multi-multi-millionaire pop star — didn't exactly need the $1 she sued Mueller for.
Swift is worth about $280 million, according to Forbes. So it wasn't about the money, but the principle. Swift's attorney told Variety,
She's just trying to tell people out there that you can say no when someone puts their hand on you. Grabbing a woman's rear end is an assault, and it's always wrong. Any woman — rich, poor, famous, or not — is entitled to have that not happen.
That's what makes it all the more special to many of her fans.
Swift's mother, Andrea Swift, and radio promotions director Frank Bell, who had both been named in Mueller's original lawsuit, were also both found not liable for tortious interference, per CNN.
So, yeah. That's pretty much a complete victory.
And if Swift really wants to revel in it? I'll just leave this suggestion here.