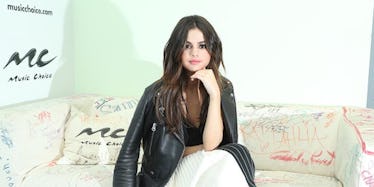 Selena Gomez Is Rumored To Be On Taylor Swift's New Album & We Can't Handle It
Rob Kim/ Getty Images
Taylor Swift's new album news just keeps getting better and better. I don't know how to handle it. Selena Gomez is rumored to be on BFF Taylor Swift's new album, Reputation, and it's just too much. Am I dreaming? So, is Selena Gomez on Taylor Swift's new album? Nothing has been confirmed yet, but fingers crossed. Elite Daily reached out to Taylor Swift's team for comment, but did not hear back in time of publication.
This isn't the first time Swift and Gomez have been in the news together, either. Gomez was one of the original gangsters in Swift's all female squad. Remember those happy and glamorous times? I certainly do. Gomez and Swift have been friends for some time, although rumors have circulated the two have lost touch. This just can't be true, especially after hearing news of their magical collaboration! So, the real question is... what kind of music will Gomez and Swift make? I hope it's something super sexy, or really trippy. Whatever it is, I know it's going to be epic. Swift, are you trying to literally kill your fans? This is just so much to take in. First, Swift posts all these weird, cryptic snake videos. Then, she's rumored to be working with Gomez on her brand new album? Not OK.
Reputation marks Swift's first album since the release of 1989 in 2014. Although it has been some time, fans have anticipated Swift's new album for years. They have basically been waiting for a new album since the old album came out. That's just how it works with Swifty fans. Obsession is an understatement. Gomez isn't one to stray from releasing new music. The superstar has remained in the spotlight for her songs, "Fetish" and "Bad Liar." Both of these songs were controversial, and both were amazing.
Let's hope this Swift and Gomez collab (if it happens) will blow our minds. I know it will. They're too good at what they do.