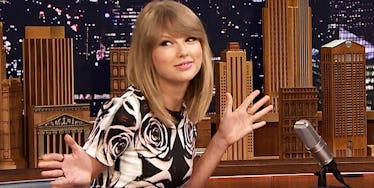 Taylor Swift Shared Another Snake Video On Instagram, So Something Big Is Coming
YouTube
Some crazy stuff is happening with Taylor Swift, you guys, and her latest Instagram confirms it. After clearing her social media accounts and shutting down her website, fans are convinced something big is coming. The singer broke the internet on Aug. 21 when she posted a video of a snake on Instagram. YEAH, A SNAKE. And today, on Aug. 22, Swift posted a second snake video. THAT MEANS THERE ARE TWO FREAKING SNAKE VIDEOS! So, what do the snake videos mean? And also, why do people call Taylor Swift a snake in the first place? Well, sit back, relax, and I'll tell you.
It all started in the summer of 2016, when Kanye West released his song "Famous" with the controversial lyrics,
I feel like me and Taylor might still have sex, I made that b*tch famous
Ugh, memories. According to Swift, the lyric was never approved by her team, specifically the part about being called a "b*tch." She also claims she "cautioned" the rapper for releasing a song with a "misogynistic message."
ENTER KIM KARDASHIAN.
Kanye West's wife was not having any of this. On July 17, 2016, Kim K tweeted about it being "National Snake Day." She then told her Twitter followers to look at her Snapchat story so they could listen to the real conversation that happened between Swift and West... a conversation in which Swift said the line was a "compliment." Yikes.
The internet completely lost it and threw a "Kim Kardashian Exposed Taylor Swift" party on Twitter. Kim K's fans flooded Swift's social media pages with snake emojis and made memes comparing the star to the reptile. Even a year later, fans can't get over what happened between the stars that night.
BUT NOW, TAYLOR SWIFT IS FIRING BACK. Yup, the singer's latest Instagram posts might mean she's reclaiming the snake and even using it as the theme of her next album. If I was Kim Kardashian, I'd be pretty damn nervous.
Taylor, please let us know WTF you're doing soon because I need time to mentally prepare for what's about to go down.