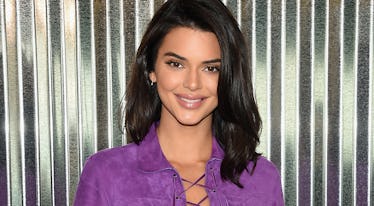 Kendall Jenner Just Made This '90s Hair Accessory Cool Again & It's So Inexpensive
Dimitrios Kambouris/Getty Images Entertainment/Getty Images
When it comes to her signature lewk, Kendall Jenner always keeps things beautiful, effortless, and uncomplicated. A fan of no-makeup makeup and hair left down or tied back plainly, Jenner's brand of beauty is particularly no-nonsense, and she's never been one to push the limit or risk over-accessorizing. As a result of her tame tendencies, I trust Jenner's taste when it comes to the specific accessories she does entertain — which is why I'm over the moon that Kendall Jenner's stretch comb headband moment happened. It was glorious, and now we can all indulge in this '90s trend (for super cheap!) and credit Kendall for making it cool again.
Remember that thing I said about Kendall typically being pretty low-key with her personal style? It's the truth, and I've got receipts. Way back in 2016 during an interview with Glamour, Kendall shared some advice she got from a makeup artist that shaped her approach to beauty and fashion from that moment on. "...one makeup artist was like, 'No, no, no. Less is more. You're young; you should definitely be more natural.' And since then, it stuck with me — I love doing less." Keep in mind, however, that her toned-down look is certainly far from boring. Kendall always looks absolutely radiant, and her model-off-duty vibes let her natural beauty shine through.
This shot of her walking in the Fendi SS19 show is actually a pretty accurate portrayal of Kendall's everyday look: barely there makeup and a tiny topknot:
Even when she's all dolled up, her hair is usually non-accessorized...
...Especially when it's not in an updo. Worn down, her hair is often kept simple, but still super stunning:
Don't get me wrong — I love Jenner's low-key looks. They really set her apart from her sisters in a way that I think works to her advantage.
But when I saw some papparazzi shots of her doing her thing in Paris while rocking an iconic stretch comb headband, I admit to being seriously thrilled:
What I wouldn't give to be the man behind Jenner, who was lucky enough to witness this '90s accessory goodness IRL:
Here's why I'm so psyched about this particular lewk. Firstly, I love to see celebs stepping out of their comfort zones, especially when they're typically as reserved as Jenner. No, there's nothing too ~wild~ about this particular headband, which all but blends in with her hair, but it's more the fact that it's an unexpected choice that makes it such an exciting accessory.
I'm tempted to say I haven't seen someone rock this headband since the actual 1990s, but in fact, the fashion world decided way back in February that it would soon come back in style.
Models at the Prabal Gurung AW18/19 show wore the headbands down the runway paired with a tiny bun that Jenner herself would approve of:
Even though stretch comb headbands are officially ~high fashion accessories~, you don't have to break the brand to give the trend a go. Classic drugstore hair care brands have been selling these babies for under $5 for years — Exhibit A being the Scünci Effortless Beauty Stretch Comb (3 for $4, riteaid.com) which offers clear, black, and brown headbands in one convenient, super-affordable bundle. Natch, Anthropologie has also picked up on the trend, and is selling its own Comb Headband ($8, anthropologie.com).
Personally, I've went all in on pricier trends and instantly regretted the splurge upon realizing they didn't suit me. The stretch comb headband isn't just cute, it's also super affordable, which makes it the trend of the year in my book. I wouldn't normally compare myself to Kendall Jenner, but it looks like we're about to have the same taste in hair accessories this fall, because I'm making this my signature look ASAP. Thanks for the inspo, Kenny!