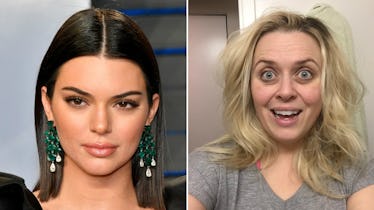 I Tried The Hair Product Kendall Jenner Loves & Now I'm Becoming A Kardashian
Dia Dipasupil/Getty Images Entertainment & Courtesy of Jamie LeeLo
You've been there before: You're scrolling through your Instagram feed when you see your favorite celeb post about their favorite new product — a face serum, vitamins that will make your skin brighter, or a specialty food service. You can't help but want to be like the stars, but are the products worth it? In Elite Daily's new series, I Tried, we put it all to the test. We're trying those products as well as celebrities' health and wellness tips, recipes, and life hacks. We'll do the leg work and tell you what living like your fave star is really like.
I know what you're thinking, where I have I been all of your life? Looking at my face might make you feel insulted that I've kept myself from the people this long. Kendall Jenner and I are practically sisters. For one thing, I'm totally up to speed on all of the Kardashian family drama, just like a real relative would be. And, two, we look identical. That's because we use the same hair masque, obviously. I was desperate for a hair makeover when I turned to my main girl Kenny for guidance. I tried the Kendall Jenner-endorsed Hairfinity masque, and with the exception of growing an actual horn out of my forehead, I felt marginally closer to becoming a unicorn.
Here's the truth: My hair is f*cked. It's really damaged. For a long time, I bought my own bleach and dumped it on my head every two weeks while I "processed" during an episode of Real Housewives. Eventually, my hair turned into cotton candy and my hairdresser was like, "Wow, do you hate yourself?" and I was like, "Guess so. LOL." For a long time, I had to do nothing to my hair — like, ever, so that it could heal and grow. Now, I pay a professional an exorbitant amount of money to make sure my hair doesn't turn into cotton candy again, and instead just hovers right between burnt straw and fire kindling.
This makes me the perfect candidate to try out a hair masque.
Full disclaimer: If all of the Kardashians jumped off a bridge, I'd jump off a bridge, too. I think they invented the wheel and then contoured the hell out of it. If they think a product is good, I think it's amazing. If they think a product is great, I will spend my college loan money on it. If they endorse a product, I will sell my kidneys on the black market and take up street performance as a means of extra income.
This was my thought process when I saw that Kendall Jenner endorsed Hairfinity. She wrote, "My go to hair secrets from @hairfinity are the vitamins and the masque! #hairfinityambassador"
#Same. Except, ya know, not an ambassador per se, but more of a #hairfinityconsumer. I'm nervous about putting things inside of my body, like the vitamins, but have no problem putting anything on my body, like the hair masque.
The product promises it's a "reparative formula that reinforces the hair's cuticle by infusing amino acids deep into the hair shaft." (I don't know about my shafts and amino acids, but my hair sure does smell nice.) The secret ingredient is a Capilsana® Complex, which is a unique blend of bioactive hydrolyzed collagen, MSM, and "nourishing horsetail." It sounds like it should cost a boatload, but in the grand scheme of things, Hairfinity's masque is downright affordable.
I scooped mine up for $29 on Amazon Prime and was Jenner-fying within 48 hours.
Brock Beauty Hairfinity Strengthening Amino Masque, $29, Amazon
When it showed up it was, ya know, hair goop. Even though I saw the picture online when I purchased it, I sort of thought it would feel fancy when it came. In reality, it's a small tub of white product, much like many other hair products you've seen.
When I opened it up, the consistency was less like a mousse and more like conditioner that had been accidentally left overnight in a very cold car.
I scooped it up with my fingers and lathered that sucker on.
Brock Beauty Hairfinity Strengthening Amino Masque, $29, Amazon
I thought my hair would smooth out right away, but the product mostly sat on top of my strands rather than melting into them. My hair was still tangled when I was combing through it, even with the masque on.
Anyway, I did it.
This was how I chose to let it "sink in" for 15 minutes. I will say, the directions said to put it under a "plastic cap," but I don't have one of those so I just went with a small bun. (Who knows how key this step is?! Only Kendall!)
When I eventually rinsed in the shower, it felt exactly like normal conditioner being washed out. Nice and smooth.
The first time I tried it, I slept on wet hair and woke up with bends in the morning, but no tangles.
The second time I tried it, I styled my hair and it looked like this:
Not bad for someone who once walked around with a head made out of cotton candy, eh? I said, eh?!
Overall, if this is a Kardashian-quality treatment at a relatively affordable price, I'll take it. The tub holds eight ounces of product and I used a silver dollar-sized amount for just one go. Because it's so deep conditioning, you likely can get away with using it once a week, or maybe even less depending on your own hair damage. All of this to say: It will last.
Sure, the paparazzi haven't caught on to me yet, but they're coming. There's no way they can avoid me now that I've taken yet another step towards fully morphing into Kendall Jenner.