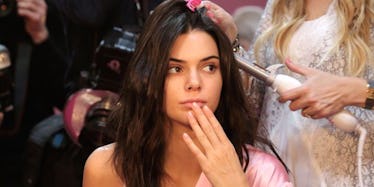 Kendall Jenner May Have Cut Off All Her Hair, According To This Snapchat
REX/Shutterstock
What the sweet frick did you do to your head, Kendall Jenner!?!
You can argue the elder Jenner daughter has made a career out of having great hair.
Granted, you can also make the argument she made a career out of having that famous last name, as many former supermodels tend to argue, but at best, that is only a piece of the Kendall Jenner employment pie.
Kendall still relies on her God-given assets to pay her bills, which may be bad news, according to her recent Snapchat.
Last night, Kenny posted footage of her chopping off a decent amount of her hair, leaving the internet asking the obvious question...
WHY ARE YOU DOING THIS?!?!?
The video, which wasn't shot with the grace and framing one would need to fully examine what is happening, appears to show Kendall having her hair scissored off by a friend.
Kendall clearly made an attempt in the clip at trying to shield her hair from the camera, which could hint at this either being fake or a sign of some publicity thing she's going to be doing in the near future.
Kendall hasn't addressed her recent hair decision on any of her social media accounts, most recently posting this to Twitter.
The internet has obviously noticed Kendall's new hair decision, everyone's obviously been VERY vocal about their feelings.
Most people are not fans of this new Kenny.
Kendall not showing what her head currently looks like is driving the web nuts.
OR JUST LIKE TELL US ANYTHING!!!
Some, though, are waiting until they see the hair until they pass judgement.
So, come on, what is it, K-Jen? Are you still rocking your regular locks or are you pulling a Kris and rocking a bob? LET US FREAKING KNOW RIGHT NOW!!!!!