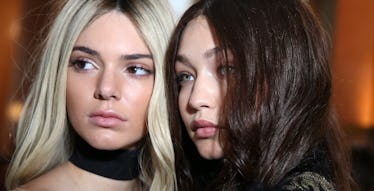 This Supermodel Is Throwing Major Shade At Kendall Jenner And Gigi Hadid
REX/Shutterstock
Did no one tell models the only people who care about their official titles are… other models?
Apparently not. Sorry, models. We were busy with literally anything else.
This is Stephanie Seymour.
She modeled for Victoria's Secret, Sports Illustrated, Vogue and Playboy.
She dated Axl Rose in his heyday and appeared in Guns N' Roses' videos for "Don't Cry" and "November Rain."
She wrote a book to teach women how to look like beautiful, mature swans rather than trash bag children unworthy of one rich husband, let alone two.
Stephanie Seymour is, to this day, regarded among the first original supermodels.
We Millennial women owe so much of the beloved body dysmorphia we developed during our childhoods to her. Though she owes us nothing more, Steph's back with some hard truths about Kendall Jenner and Gigi Hadid.
Kendall Jenner and Gigi Hadid have faced plenty of criticism for their lack of "legitimate" supermodel status from celebs and normals alike who love to hate the career power of nepotism but choose to keep their own official Instagram accounts private (lookin' at you, Steph).
As of last week, Stephanie Seymour found herself fresh out of books to write and Roses to bone when she gave Vanity Fair a piece of her mind regarding the pair of young, rich, reality TV spawn.
She told the magazine,
They are completely different than we were… Supermodels are sort of the thing of the past. They deserve their own title. [Kendall and Gigi] are beautiful girls, and I support all of them, but they need their own title… Bitches of the moment! That would be a good title for them.
Basically, if Stephanie Seymour can't be a supermodel anymore, no one can be a supermodel EVER. AGAIN.
Honestly, I fully support this level of remorseless village burning.
Why even hire models at all, anymore? Throw some expensive wigs on a family of spiders and — BOOM — position filled.
Anyway, fashion is dead.
Citations: Stephanie Seymour Would Rather Call Kendall Jenner and Gigi Hadid "Bitches of the Moment" than Supermodels (Vanity Fair)