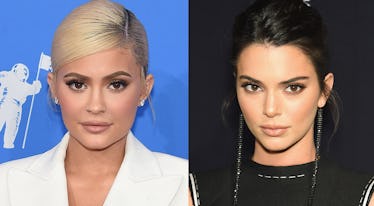 Fans Think Kylie Jenner Looks Just Like Kendall On Her 'Glamour' UK Cover & Now I Can't Unsee It
Jamie McCarthy/Getty Images Entertainment/Getty Images; Dimitrios Kambouris/Getty Images Entertainment/Getty Images
While so many Kardashian-Jenner fans out there try to recreate the looks of their faves, even stunner Kylie Jenner channels her own siblings' signature looks every once in a while. In fact, people can't stop talking about how much Kylie looks like Kendall on her Glamour UK cover. I mean, yes, they're related, but still. Considering the two are known for being as close to beauty opposites as a duo can get, the striking resemblance in the cover shot is kind of a big deal.
Even though they share their famous DNA, and despite collaborating on everything from authoring novels to releasing their own line of clothing and accessories, Kendall and Kylie make a point to display their differences and not be constantly grouped together. Kylie is always dolled up in full glam, toting a pricy handbag and selfie-ing away. Kendall, on the other hand, is usually spotted going for a more natural look, relying on her model-off-duty cool to make basic beauty look ravishing. The two have even gone separate ways in terms of passion and careers: While they do still work together on their collaborative brands, Kylie's primary focus is on her beauty brand, Kylie Cosmetics, as well as caring for her daughter, while Kendall is off slaying runways and ad campaigns as one of the industry's top models of the moment.
So imagine my surprise (and the surprise of many, TBH) when Kylie posted her latest magazine cover for Glamour UK, and I had to do a double-take to realize it wasn't her sister, Kendall:
She's serving some serious Kendall Jenner vibes, am I right? The strong brows, the light eye makeup, the tousled, wet hair look — it's all straight out of the supermodel's playbook, is it not?
I'm even getting similar vibes to Kendall's own recent magazine cover for Elle! That Jenner sultry stare, tho.
While lots of siblings cringe (in that love-hate sort of way) when compared to one another, these two are so gorgeous in their own right, so it's definitely not a bad thing. "Omg I thought this was kendall for a second you look beautiful!" wrote one commenter on Kylie's post. Another agreed: "I can see her resemblance to Kendall here." Many comments expressing similar sentiments flooded Kylie's post of the above cover.
While the two are often so focused on maintaining their separate images, small reminders of their bond, like their resemblance on Kylie's cover, always hit me right in the feels. I love a good sister moment!
If you're used to seeing Kylie looking a little more like herself, she's got two more covers with Glamour UK for you to enjoy, both featuring lush lashes and some statement lip action:
Which cover is your fave? I'm partial to the first because of the sister vibes, but I think Kylie looks gorgeous on all three — and I'm definitely trying to learn more about that purple and blue metallic glitter lip, if you know what I'm saying.