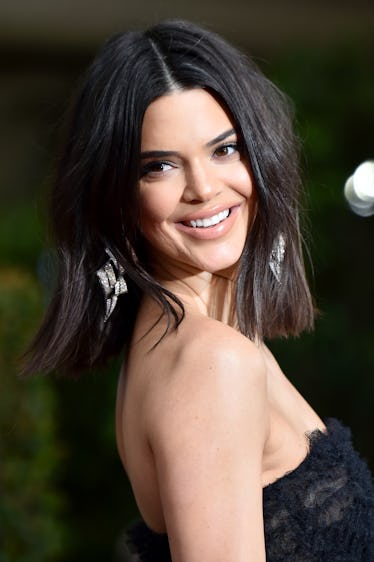 Here's What Kendall Jenner Really Thinks About All Her Sisters
Frazer Harrison/Getty Images Entertainment/Getty Images
She's currently the only sister without a baby (or one on the way any minute, for that matter), but Kendall Jenner is used to being the lone wolf in her family. The gorgeous model is the second-to-youngest of the five female Kardashian-Jenner sibs, and she's been outspoken in the past about being the "different one," and how she's more of a tomboy than Kourtney, Kim, Khloé, and Kylie. But Kendall Jenner's quotes about her sisters prove she's got nothing but love for all of them, and now I totally have all the feels.
Not gonna lie, I love everything about this crew of sisters and sometimes spend hours obsessing over who is closest with who. Maybe it's because I don't have a sister and have always wanted one. Or maybe it's simply because all of the relationships seem to change on the daily and I simply can't, you know, Keep Up. One minute it's Kourtney and Khloé in Miami, the next it's Khloé and Kim getting pizza in New York or hitting up McDonald's in a black Rolls. Most recently, it was Kim, Kourtney, and Khloé in Tokyo. And yes, I am majorly jelly of all of these things. But there is one relationship in this mix of sibs that seems to have stood the test of time, and that's the one between the two Jenner girls, Kendall and Kylie.
I mean, just check out what Kendall had to say in an interview with Vogue about her baby sister becoming a mom:
"It's not that it's more exciting than any other births in the family," she explained. "It's different exciting, because she's my baby sister who I grew up with. We all grew up in twos: Kourtney and Kim grew up together; Rob and Khloé; Brandon and Brody; Burton and Casey, and then Kylie and I. So to see my best friend growing up have a baby? It's already made us even closer."
How freaking adorable is that? Now I want a sister of my own even more! But KyKy is not the only sis Kenny has endless love and admiration for. The Keeping Up With The Kardashians star once compared Kim to The Little Mermaid on her website, saying they both are "headstrong, romantic, and smart."
I totally see it, don't you? She also gave her big sis props for being so business savvy  — "she's definitely one of the smartest and most innovative people I know" — and for being super extra during the holiday season. "The Wests' Christmas decoration game is on point," Kendall explained. "I wouldn't mind decking my house out like hers next year."
Same, Kenny. Same.
Of course, not everything with sisters can be perfect all the time, and if you watched KUWTK this season, then you know Kendall's relationship with her oldest sister Kourtney hit a rough patch.
"I feel like I always think you hate me," Kourtney told Kendall. DRAMA! Luckily Khloé stepped in to help the two of them get to the root of the problem, and they both agreed to put in more of an effort.
"I think Kourt and I have an amazing relationship," said Kendall. "We have awkward moments together, but I think it's because we love each other too much."
Of course, it all worked out in the end when the three of them went to a wine tasting, and Kourt and Kenny bonded over getting drunk.
Watch:
So hilarious! And was Khloé already preggers here and that's why she "took one for the team"? Somebody figure that out and get back to me.
Anyway, it's not really all that surprising that Khloé tried to mediate Kendall's relationship with Kourt, since they are both basicall her ride or dies.
"If we're fighting, we call Khloé," Kendall once said. "She's our peacemaker."
And you know Kendall thinks Khloé is going to be a kick*ss mom, because check out this throwback she posted of the two of them on Instagram on March 13.
OK, that just might be the cutest pic of baby Kenny ever. Sisterly love (and Matrix glasses) for the win!