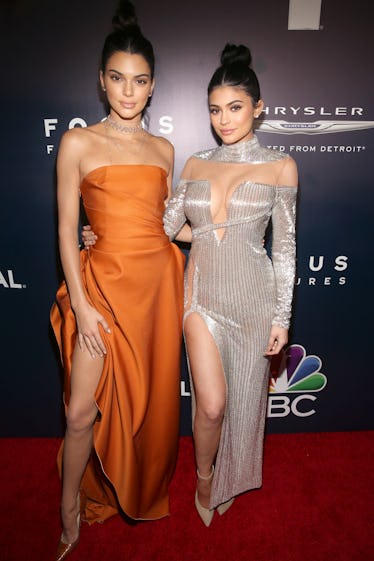 Kendall Jenner Says Kylie Jenner Giving Birth To Stormi Made Them Closer & I'm Sobbing
Jesse Grant/Getty Images Entertainment/Getty Images
Just when you think you've hit mass capacity for Kardashian baby news, Kendall Jenner goes and does something like this. Kendall Jenner's quotes about Kylie Jenner having Stormi are so sweet and unexpected, I'm surprised how invested I am. Kendall Jenner is the only family member yet (on Kris Jenner's side) to become a parent, but she definitely knows how to mother the hell out of people she cares about.
Sure, Jenner is technically part of the Keeping Up With The Kardashians franchise, but her independent career as a supermodel is her main "thing." She's seriously killing it. Most recently, she appeared on yet another Vogue cover and had an intimate conversation with the fashion magazine. In her interview, she covered everything from her sexuality to her love of riding horses. Perhaps most notably, she talked about what her little sister, Kylie, becoming a mom means to her.
While Kylie is certainly far from the first sibling to have a baby, for some reason, it's different. Kendall put it,
It's not that it's more exciting than any other births in the family—it's different exciting, because she's my baby sister who I grew up with. We all grew up in twos: Kourtney and Kim grew up together; Rob and Khloé; Brandon and Brody; Burton and Casey, and then Kylie and I. So to see my best friend growing up have a baby? It's already made us even closer.
Kylie delivered baby Stormi on Feb. 1, 2018 and is doing amazing. Recently, she and Kendall went out for their first girls night since the baby arrived, just the two of them. According to US Weekly, they dined at Delilah restaurant in West Hollywood where they hung out "for a couple of hours." A source said,
It was one of Kylie's first nights out [since giving birth to daughter Stormi]. She and Kendall just stuck together and enjoyed dinner and hung out for a couple of hours. They were both in a great mood and left through the back exit.
The two youngest sisters also shared similar photos on Instagram after palling around at Tristan Thompson's birthday party. Kendall captioned her photo, "love you, mean it."
Despite not having kids of her own, Kendall says her friends call her "Mom" anyway. She told Vogue,
My friends make fun of me and call me Mama Ken because I literally take control of every situation. I guess I'm a control freak. Do you know how many times I've taken care of my drunk friends?
As far as actual children, Kenny is in NO rush. She explained, "I am ready to wait. I want to have kids, but at, like, 28 or 29."
At 22, Jenner feels like her plate is already plenty full. In fact, she is actively looking for ways to slow down, and has been open about her struggle with anxiety over the last year or two. She told Vogue it was one of the things that drove her back to riding horses, something she did and loved as a kid.
I made it a point at the beginning of 2017 to consciously slow down, take more time for myself, be more selective and not just do whatever my agents tell me to do. I did this [horseback riding] my whole life—it was my life. I didn't care for anything else, I didn't care about boys. This is what makes me really happy.
That makes her happy and her little sister becoming a mom, obviously.
Between Kylie delivering Stormi, Kim Kardashian's new daughter, Chicago, and Khloé Kardashian's baby on the way, Kendall has plenty of love to hold her over, for now. In her own words:
At the end of our life, you're not going to care that you worked every day and you made this much money. You're going to care about the relationships that you've built and the bonds that you have and the love that you've created. That's what you're going to care about. That's my whole thing: what you leave behind.
I'm sold, Kendall.
Check out the entire Gen Why series and other videos on Facebook and the Bustle app across Apple TV, Roku, and Amazon Fire TV.