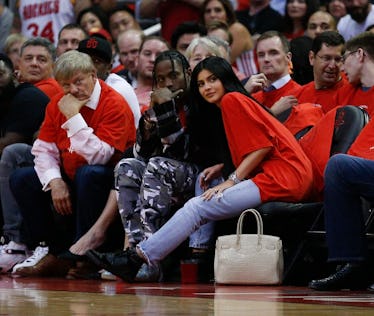 Travis Scott Posted A Pic Of Stormi's Face & She's So Freaking Adorable
Bob Levey/Getty Images Sport/Getty Images
On Saturday, March 3, Kardashian-Jenner fans everywhere finally got a full glimpse of Kylie Jenner's newborn baby when Travis Scott posted a photo of Stormi's face. This is the first time that the nation (and, indeed, the world) has been able to see the one-month-old's actual face, so, as you can guess, it's a pretty exciting day for just about everybody. Travis Scott posted the pic of Stormi Webster (Webster is Travis Scott's real last name, get with it) on Saturday, just before 11 a.m. PT, so one can assume it was a pleasant weekend morning with the baby.
"Our little rager !!!!" Travis wrote in the caption of the completely adorable photo. The picture that he posted on Instagram on Saturday shows the little baby surrounded by a bunch of flame emojis, as if the kid truly is out there raging up a storm (pun intended — get it?!?). With this picture, fans finally get a good look at little Stormi. The image shows her with big ol' baby eyes to die for, truly enviable eyelashes, and eyebrow shapes even Kylie would approve of. Stormi's also got a nice crop of dark brown or black hair, just like her parents. And as Stormi is a baby, she is also sucking on a pacifier. Celebrity babies: Just like regular babies!
You can check out the picture for yourself to decide if Stormi looks more like Kylie or Travis Scott (the answer, of course, is that she looks most like an adorable lil' baby):
Two minutes after posting the pic of Stormi, Travis Scott posted an Instagram of a gorgeous off-white whip as seen through another car's window where someone was holding a phone receiving a call from "Scam Likely." Such a regular dad move!
The picture that Travis Scott posted of Stormi on Saturday appears to have come from a Snapchat that Kylie Jenner took at around the same time. Also late Saturday morning (California time), Jenner took to Snapchat to show off her super cute baby. She posted a video of Stormi cooing, with the flame filter on her face. "My pretty girl," Jenner captioned the video in pink text.
Although this is not the first time that the public at-large has been able to see a bit of what Stormi looks like, it does account for two firsts. First, it is the first time that Travis Scott, Stormi's father, posted a picture of his baby girl to Instagram. (Travis Scott had posted footage of Stormi on Snapchat, but not in an IG post.) Second, it is the first time that fans can actually see Stormi's face. Previous photos only showed glimpses of the baby.
For instance, on Thursday, March 1, Jenner posted two pictures in an Instagram post of her holding her baby. The pictures show both Jenner and Stormi's full-length bodies, but Stormi's face is mostly hidden as she's facing away from the camera and wearing a hoodie onesie with animal ears on it (I am crying). "My angel baby is 1 month old today," Jenner captioned the pictures.
This new deluge of photos of the newborn baby are especially exciting considering the complete secrecy that surrounded her birth. In case you somehow totally missed the latter half of 2017, rumors swirled for about six months that Jenner was pregnant. However, neither Jenner nor any member of her large and very public family would confirm (or explicitly deny) the rumors. So America was left begging someone to just please tell the world what exactly was going on. Meanwhile, Jenner disappeared from public life and basically stopped posting things on social media — which was a huge turnaround from her regular modus operandi. Finally, on Super Bowl Sunday (i.e. Feb. 4), Jenner confirmed that she had given birth to a baby girl, Stormi, on Feb. 1. Based on Stormi's regular appearances on social media in the past month, fans are likely to see a lot more of the little girl as she grows up. Here's hoping Stormi's OK with all that attention!