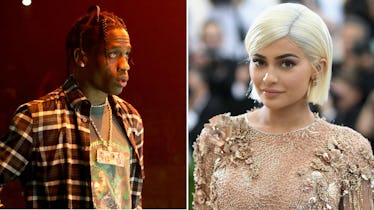 Travis Scott Snapchatted A Photo Of Stormi Webster Wearing The Cutest Outfit
Randy Shropshire/Getty Images, Dimitrios Kambouris/Getty Images
Little by little, fans are getting a glimpse at what an adorable baby Kylie Jenner and Travis Scott have made. Back on Feb. 1, Jenner gave birth to the couple's first daughter, Stormi Webster. Jenner announced the news on her Instagram and followed up with a beautiful (and emotional) YouTube video chronicling her nine-month pregnancy. In one of the final shots, fans got to see a tiny sliver of the newborn baby's body. And soon after Stormi's birth, we also got a blurry image of her face with her hand holding tight onto her mom's. Travis Scott's photo of Stormi Webster on Thursday, March 1, showed even more of the tiny tot, and the sweater she's wearing in the pic is so cute, it will literally make you sob.
On Feb. 4, Kylie Jenner announced she gave birth to Stormi Webster in a lengthy Instagram post. She wrote,
I'm sorry for keeping you in the dark through all the assumptions. I understand you're used to me bringing you on all my journeys. My pregnancy was one I chose not to do in front of the world. I knew for myself I needed to prepare for this role of a lifetime in the most positive, stress free, and healthy way I knew how. There was no gotcha moment, no big paid reveal I had planned. I knew my baby would feel every stress and every emotion so I chose to do it this way for my little life and our happiness. Pregnancy has been the most beautiful, empowering, and life changing experience I've had in my entire life and I'm actually going to miss it. I appreciate my friends and especially my family for helping me make this special moment as private as we could. My beautiful and healthy baby girl arrived February 1st and I just couldn't wait to share this blessing. I've never felt love and happiness like this I could burst! Thank you for understanding.
Jenner quickly followed up with a link to her YouTube video, entitled "To Our Daughter." In it, we see Jenner and Scott through the months of her pregnancy, and even see baby Stormi at the end. Honestly, it's beautiful. I've watched it like 87 times, and I'm not ashamed.
On the one-month anniversary of Stormi's birth (March 1), Travis Scott took to Snapchat to share an adorable picture of his daughter. The photo shows Stormi wearing a pink sweater with a red heart on it and the word "DADDY" written inside. His caption read, "My lil mama 1 month today her favorite unit of course." DYING. SO CUTE.
While Jenner has posted photos of Stormi before (including a blurry face photo and a Snapchat of her tiny, tiny toes), this is the first photo of Stormi we've gotten from Scott.
Earlier this week on Feb. 28, Scott posted another photo to his Snapchat. It showed him on the road with the caption, "Otw mama."
If you're wondering where Scott was "on the way" from, it's possible he was traveling from a show to reunite with his girlfriend and daughter. But, Scott also isn't living with Kylie Jenner despite them having a child together. No worries, though. Nothing is wrong, they're just taking things slow. A source told People,
Kylie and Travis are not officially living together. He has his own place. They are co-parenting though, and things are going great. They are together and happy.
The source also said that Scott is "very sweet with his daughter," which is so apparent in his latest Snapchat pic.
Regardless of their setup, it's clear both parents have such a love for newborn baby Stormi. All the best to the family of three – and keep the adorable pics comin'.