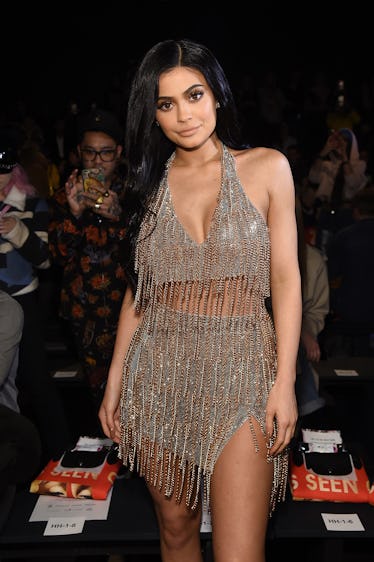 Kylie Jenner Shared A Snapchat Of Stormi & Twitter Is Freaking Out
Jamie McCarthy/Getty Images Entertainment/Getty Images
Kylie Jenner's baby girl is probably the most talked about celebrity baby since... well, actually, I don't think there is a "since," I think she's probably just the most talked about baby. So it's no wonder that when Kylie Jenner posted a Snapchat of Stormi, fans were totally over the moon. The new mom posted a sweet and charming Snap of her littlest addition, and fans are all about it.
On Feb. 25, Jenner posted a super-cute video showing her playing with her new baby's tiny toes. The extremely close-up video showed Kylie's hand, with a long peach-colored manicure, playing with Stormi's foot, which sticks out of a white pant leg. In the short video the new momma sing-songs to her baby, saying, "Mommy's cute little toes," as she gently rubs the tiny foot and watches the little toes stretch themselves out.
And — and! — best of all, we might have gotten our first sound of Stormi. As Jenner rubs her baby's foot, what sounds like a soft little baby yawn is clearly audible in the background. (OK, it might actually be Jenner herself making the happy noise, but I'm going to choose to believe that it's Stormi. Let me have this one thing, guys.)
Um. Adorable.
Fans were all about the sweet moment.
But some fans just wanted more.
The littlest member of the Kardashian-Jenner clan isn't even a full month old, but she's clearly already got her mama's charm on social media. Jenner announced on Feb. 4 that she had given birth to her first child, with boyfriend Travis Scott, ending months and months of speculation about long-running rumors that the youngest Kardashian-Jenner was pregnant.
Jenner announced her little girl, who was born on Feb. 1, via an Instagram post and a super emotional video shared via YouTube, which documented Jenner's pregnancy from the other side. The video, called "To Our Daughter," showed all the moments that Jenner had kept private over the course of the nine months, from fast food runs to ultrasounds and more.
In an Instagram post released at the same time, Jenner explained why she wanted to keep the experience private. She thanked her fans for their patience, explaining that she needed privacy as she prepare for the role of "mom" to her little girl. She wrote,
I'm sorry for keeping you in the dark through all the assumptions. I understand you're used to me bringing you along on all my journeys. My pregnancy was one I chose not to do in front of the world. I knew for myself I needed to prepare for this role of a lifetime in the most positive, stress free, and healthy way I knew how. There was no gotcha moment, no big reveal I had planned. I knew my baby would feel every stress and every emotion so I chose to do it this way for my little life and our happiness.
Pregnancy has been the most beautiful, empowering, and life changing experience I've had in my entire life and I'm actually going to miss it. I appreciate my friends and especially my family for helping me make this special moment as private as we could.
Though she didn't announce her daughter's name in the birth announcement, a few day later she announced that she and Scott had named their firstborn "Stormi," and that their little girl would take her father's last name of "Webster" ("Scott" is his stage name).
And since then, the only thing left is to see the little one herself. I mean fans are pretty much guaranteed she's a cutie, but hey, seeing is believing. Right?
We still have yet to get the first Stormi selfie (it's coming), so in the meantime, fans will have to be satisfied with this. They are legitimately cute toes, though.