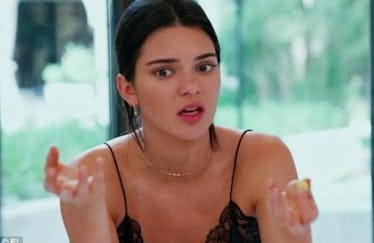 21 Thoughts Kendall Jenner Probably Has Now That Her Entire Family Is Having Babies
E! Entertainment
It's a Kardashian baby world and we're all just living in it. In the past five years, there's been a Kardashian baby boom for the famous family, and Kendall Jenner's been smack dab in the middle of it. Every time the supermodel turns around, it seems like another sibling is pregnant or having a kid, and she's just over here like "LOL, one more Vogue cover, please." I bet Kendall Jenner's thoughts on her whole family having babies are hilarious and so, so relatable.
I mean, think about how you feel every time you sign on to Facebook and see another high school friend is engaged or expecting. You're probably somewhere in-between, "F that! I can't imagine having a baby. I love my freedom!" and, "Oh my God, I'm going to wither away and die alone. Why can't I get my sh*t together?" Just this year alone, Kenny's sisters Kim Kardashian, Khloé Kardashian, and Kylie Jenner all either had a baby or are expecting one. Kim's third baby, Chicago West, was born via surrogate in January of 2018, and Kylie just delivered her daughter, Stormi, on Feb. 1. Khloé is due with her first child sometime this spring, and Kourtney continues to rock serious MILF vibes as the mother of three while dating 24-year-old model, Younes Bendjima.
Like, COME ON. What's Kendall supposed to do with all of that?
Not to say Kenny even wants to have kids of her own. I just imagine it's A LOT to be around all of the time. Here are all of her nieces and nephews in age order:
Mason (8), Penelope (5), North (4), Reign (3), Saint (2), Dream (1), Chicago (1 month), Stormi (1 week), and Khloé's baby on the way (negative 3 months or so).
What a roll call, eh?
Here is a big range of thoughts I bet Kendall has now that all of her siblings are parents:
1. "Too bad all of my modeling money goes directly to my nieces' and nephews' Christmas gifts. Ugh."
2. "I'm not ready to be pregnant."
3. "Hang on... AM I PREGNANT?"
4. "I can't have children because then I'd have to give up one of my closets for all of their little shoes."
5. "I don't pick favorites; I love all the kids equally. *cough* Penelope *cough.*"
6. "I love that baby's name!"
7. "I hate that baby's name."
8. "Is it pronounced 'Shy' or 'Chai?'"
9. "DID I MISS MY PERIOD?"
10. "Which kid's birthday party is this? I brought them a pony."
11. "Hell yeah, there's my period!"
12. "I've always liked the name Doug, but that's just me. Obviously."
13. "I'll get pregnant when Calvin Klein comes out with a maternity underwear line."
14. "This is getting out of control."
15. "Who needs babies when you have multimillion dollar modeling contracts? Right? RIGHT?!"
16. "Hey! It's Kendall! Kendall Jenner? Your daughter. Hello, Mom?"
17. "No, I'm not pregnant. Thank you for asking."
18. "Seriously, no. I'm not pregnant. Thank you for asking."
20. "No."
21. "Stop it."
Let's be real, though, it's almost guaranteed Kenny has had SOME sort of line of thought like these guesses here. She loves her family.
Kendall's proven to be a supportive, loving, and incredible aunt and sister, and I'm sure she's probably rolling around in all the awesome baby-ness just like the rest of us.
Kendall, if you need a lifeline with the rest of the world, I've got you. I'm also not pregnant and also a supermodel.
Check out the entire Gen Why series and other videos on Facebook and the Bustle app across Apple TV, Roku, and Amazon Fire TV.