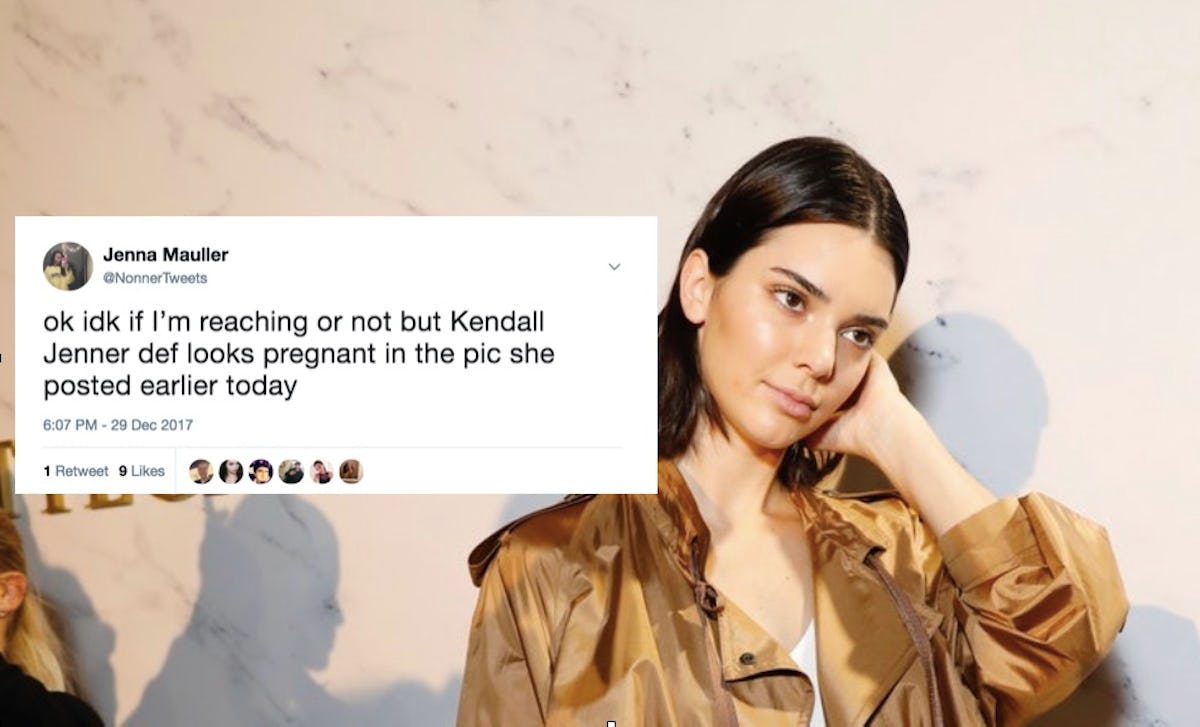 People Are Saying Kendall Jenner Is Pregnant Because Of This IG & It's BS
TRISTAN FEWINGS/GETTY IMAGES ENTERTAINMENT/GETTY IMAGES
If you're at all familiar with the Kardashian-Jenner klan — which I can almost guarantee that you are — you're probably aware that Kim, Khloe, and (reportedly) Kylie are all expecting. And don't get us wrong; we're beyond happy for each and every one of them, but with the entire universe becoming vicariously baby-crazy, wild rumors are now sparking on Twitter that Kendall is also pregnant. Fans think Kendall looks pregnant in a super sexy selfie that she posted on Instagram, and people are saying Kendall Jenner is pregnant. To be honest, we completely disagree.
On Friday, Dec. 29, Kendall posted a sultry AF bathroom selfie (because seriously, who doesn't do that on a regular basis... am I right?). She added a short and simple caption, "loner life," with an alien emoji. She had her hair pulled back and her signature natural made-up look. Kendall was also rocking a beyond-adorable white tube dress with black polka dots, and she legitimately defined "babe" for all of us.
Although many of us feel that Kendall looks like the same gorgeous diva she always is, social media's infamous internet trolls came out to play. They picked on the fact that her form-fitting dress shows outlines of her stomach, with assumptions that — along with her expecting sisters — she is also pregnant.
Under her glamorous AF mirror selfie, Kendall's Instagram followers began bombarding her with presumptuous questions asking if she's pregnant. They said things like, "Another baby bump?" and "Did u guys all get pregnant at the same time on purpose?" WTF? People are seriously frustrating. I'm calling BS on all of these ridiculous pregnancy rumors right now, because sometimes, people just need to mind their own business.
Of course, Twitter also had something to say about Kendall's Instagram pic.
While it is ironic — and pretty cool — that sisters Kim and Khloe are expecting at the same exact time (Kylie might be too, but that's still unconfirmed), there's no confirmation that anyone else in the family is currently trying or expecting. While the the Kardashian-Jenner sisters do famously stick together and share many intimate and televised experiences through their hit reality show, it's presumptuous for anyone to think that Kendall is expecting as well. Kendall wore the heck of that cute AF body-con dress, and she looks like the amazingly gorgeous woman she always is. So, in the famous words of YouTube sensation Chris Crocker: "Leave (Kendall Jenner) alone!"
Although we can almost guarantee that Kendall isn't expecting a child, Khloe released her pregnancy announcement loud and proud on Instagram earlier this month. Since she's obviously pregnant and couldn't be happier about it. We, in turn, couldn't be happier for her.
Khloe captioned her triumphant pregnancy photo as,
My greatest dream realized! We are having a baby! [...] I still at times can't believe that our love created life!
Kim K also confirmed that she's using a surrogate due to health issues, and we also couldn't be more proud for her. While it was dangerous for Kim to risk getting pregnant due to an existing condition, she and Kanye have hired someone to carry their baby — and it was really, really responsible of them. So cheers to Kimye!
If you're on team baby-bump for Kendall, I would like to formally let you know that I disagree with your opinion. Kendall looks hot AF in her latest Instagram update, and I honestly don't think she's planning on getting pregnant — even alongside her expecting sisters — anytime soon. So if you decide to rudely assume that she (or anyone else in your life) is pregnant, you might want to keep that to yourself.
Check out the entire Gen Why series and other videos on Facebook and the Bustle app across Apple TV, Roku, and Amazon Fire TV.