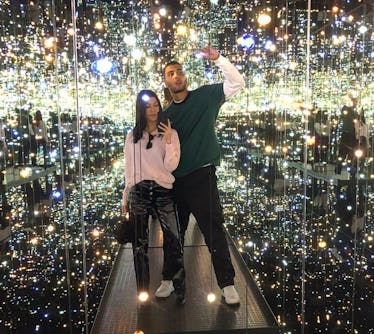 Kourtney Kardashian DGAF About Scott Disick, Posts Sexy Pic On Vacation With Her BF
Instagram/Kourtney Kardashian
My favorite Kourtney Kardashian is vacation Kourtney Kardashian. Usually this health nut of a mom is working out, making cauliflower pizza crust, or purchasing organic deodorant. Because of her no-nonsense attitude towards her health and lifestyle, it's always a blast to see her let loose a little. Recently, she and boyfriend Younes Bendjima went on a little beach trip. Guys, Kourtney Kardashian's Mexico pictures are super scandalous and so, so fun. Our girl looks like she's living the dream, which helps me vicariously live through her. Thanks, Kourt.
When Bendjima first popped up last summer, everyone was like, "Ohhh, look at this." Now that he's still around, everyone's still like, "HOORAY! LOOK AT THIS!" Over the past decade, we've watched Kardashian struggle to officially cut ties with her baby daddy, Scott Disick. The two were hot, then cold. On again, then off again. Pregnant, then not pregnant... then pregnant again. Kardashian always seemed hopeful that Disick could change his wild ways, and she's clearly worked hard to find a way to co-parent with the famous party boy.
Now, after living a little bit of a private mystery, Kardashian is finally Instagram official with Bendjima. In the most recent season of Keeping Up With The Kardashians, fans watched Kim and Khloé push her to admit she had a real-life boyfriend. Even though Kardashian was awkward and weird when she had to talk about him, it was obvious this guy was special. Now, she's finally letting us in on their love story and the pictures are SO good.
Take their most recent jaunt to Mexico, for example. Kardashian posted a sexy photo of herself in a swimsuit, sprawled out on a cabana bed in front of the ocean. She captioned the photo, "guac is extra."
I mean, look at this.
It's a lot to take in, but you can handle it. She also shared another photo lounging on the edge of a pool with the caption, "It's the simple things."
Sure. This looks "simple."
Presumably, Bendjima is the person behind the camera. This is just one of the many luxurious trips the two have taken together, including past excursions to Egypt, Paris, and of course, that famous jet ski ride at the 2017 Cannes Festival.
Here they are on a camel.
Chilling under a chandelier.
And riding those jet skis.
We know from KUWTK that Kourt's new relationship is stressing Scott Disick the F out. In one episode, he is caught screaming at her over the phone. In a different episode, Kris Jenner tells her daughter how upset Disick was when she went on a girls trip to Mexico.
Kardashian responded,
Well, that's really not fair. It's just like, I can't even live my life. I can't even go anywhere. He needs to get a f*cking life and leave me alone. All he does is try to make everybody else feel bad for him and try to make me look like the bad guy in this situation when clearly I'm not from, you know, 10 years of this going on.
Jenner tried to say Disick was giving Kardashian his "heart on a platter," but she was not having any of that. Kardashian responded,
He's not though! ... No, mom, that's what he makes it seem to you, to Kim, to Khloé, to the world, to everybody. He sits there and grovels and feels bad for himself. So if that was his truth, why can't he get it together?
As intense as the conversation was at the time, Kardashian is clearly over it right now and living her best white bathing suit life.
Kourtney, keep the pics and guac coming. We are living for it.
Check out the entire Gen Why series and other videos on Facebook and the Bustle app across Apple TV, Roku, and Amazon Fire TV.