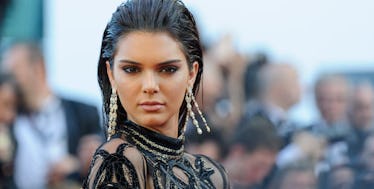 Kendall Jenner Just Paid An Insane Amount Of Money For Her Gorgeous New Home
REX/Shutterstock
Hey Kendall Jenner, are you looking for a roommate?
The 20-year-old model just bought a mansion that I will 100 percent never be able to afford.
Kendall is actually moving into property that Emily Blunt and John Krasinski used to call home. Aren't celebrities so cute, sharing the same fancy houses and stuff? Haha, BRB, gonna go cry my eyes out.
Seriously, though, Kenny (can I call you Kenny?), please let me live with you. I've been told I'm a great roommate and I won't steal any of your clothes because your waist is the size of my thigh. We would be a match made in heaven.
All right, so are you ready to hear how much money Kendall spent on her new Hollywood home? ARE YOU SURE YOU'RE READY?
Aight, if you say so. Kendall Jenner reportedly bought the property for $6.5 million.
LOLOLOLOLOLOLOLOLOLOLOLOLOL. FML.
Kendall's new three-story place has six bedrooms, five bathrooms, a rooftop deck and a pool. That's it. No big deal.
Here's what her new mansion looks like. Deep breaths -- we'll get through this together.
This is Kendall Jenner's new living room. COOL, KENDALL. NEAT SPOT.
Here's one of her bathrooms, which is the size of my entire apartment.
AND JUST LOOK AT THIS GODDAMN SHOWER HEAD.
Is this a closet? I don't even know, but it's Kendall's!
Here's one of the bedrooms. Look at that view.
This is some other bedroom, I guess. In case she gets bored of the first one.
MORE BATHSSSSS. Screw you, Kendall.
Just kidding, please let me come over. I want to bathe in your tub and eat pizza in your kitchen. Just think about it, OK?
Citations: Kendall Jenner New Mansion (ELLE)