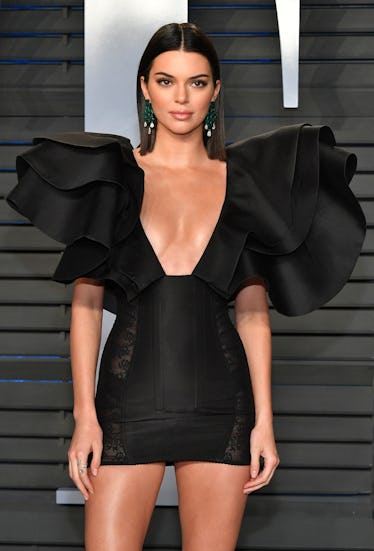 Kendall Jenner Opens Up About Her Sexuality & Love Life In New Interview
Dia Dipasupil/Getty Images Entertainment/Getty Images
Kendall Jenner has always been the coolest and most down-to-earth sister of everyone in the Kardashian-Jenner crew. Really. Sure, she may be a seriously gorgeous supermodel who knows how to glam it up when duty calls, but the oldest Jenner sister is actually a "tomboy" who collects vintage cars and likes to snowboard and ride dirt bikes. Even her friend squad is mostly made up of dudes. But while Kendall will happily own up to giving off a certain "male energy," she is now speaking out in the April issue of Vogue about all those rumors on the internet that say she's gay. She's not, for the record. And Kendall Jenner's quotes about her sexuality are honest and refreshing AF.
In the cover story for Vogue's April issue, Kendall poses with a cockatoo while addressing all the questions her fans have had about her sexuality. "I don't think I have a bisexual or gay bone in my body, but I don't know!" she explained. "Who knows?! I'm all down for experience — not against it whatsoever — but I've never been there before."
I love her so much for keeping things open. And the Keeping Up With The Kardashians star didn't stop there.
"Also, I know I have kind of a ... male energy?" she said. "But I don't want to say that wrong, because I'm not transgender or anything. But I have a tough energy. I move differently. But to answer your question: I'm not gay. I have literally nothing to hide. I would never hide something like that."
Still, the rumors have circulated on social media for a while now — particularly about her being involved with actress/model Cara Delevingne.
How much do you love the nickname "CaKe?"
Kendall revealed to Vogue that she thinks one of the reasons people speculate about her sexuality is because she tends to keep her love life on the DL.
"I think it's because I'm not like all my other sisters, who are like, 'Here's me and my boyfriend!'" she said. "So it was a thing for a minute because no one ever saw me with a guy. I would always go that extra mile to be low-key with guys, sneaking around all the time. You don't want to, like, look crazy."
As for who the reality star is sneaking around with, the rumor mill has had her linked with Detroit Pistons player Blake Griffin for a few months now. And while Kendall conducted part of the Vogue interview over the phone from Michigan where she said she was visiting "a friend," she still refused to confirm the relationship, saying only "Yeah... no. I'm happy. He's very nice. I have someone being very nice to me."
Aw, I'm happy for her! The pair was first linked back in September 2017, when they had dinner at Carbone in New York City and then reportedly saw the movie It. What a cute first date, right?
Griffin was engaged to someone else not too long ago. According to US Weekly, the basketball player split from his fiancée, Brynn Cameron, in July, and the two of them continue to co-parent a 4-year-old son, Ford, and 1-year-old daughter, Finley. Such great names! But while a source told the publication that the couple ended things on good terms, Cameron is now reportedly suing Griffin, claiming he dumped her to be with Jenner, leaving her and their kids in bad shape financially. Elite Daily reached out to Jenner's team and Cameron's attorney for comment surrounding the lawsuit, but did not hear back by the time of publication.
So intense! Will Kendall and Blake's relationship survive this whole debacle? Only time will tell. But whatever happens, we know you're strong, Kenny, so just break out that dirt bike and keep doing you!