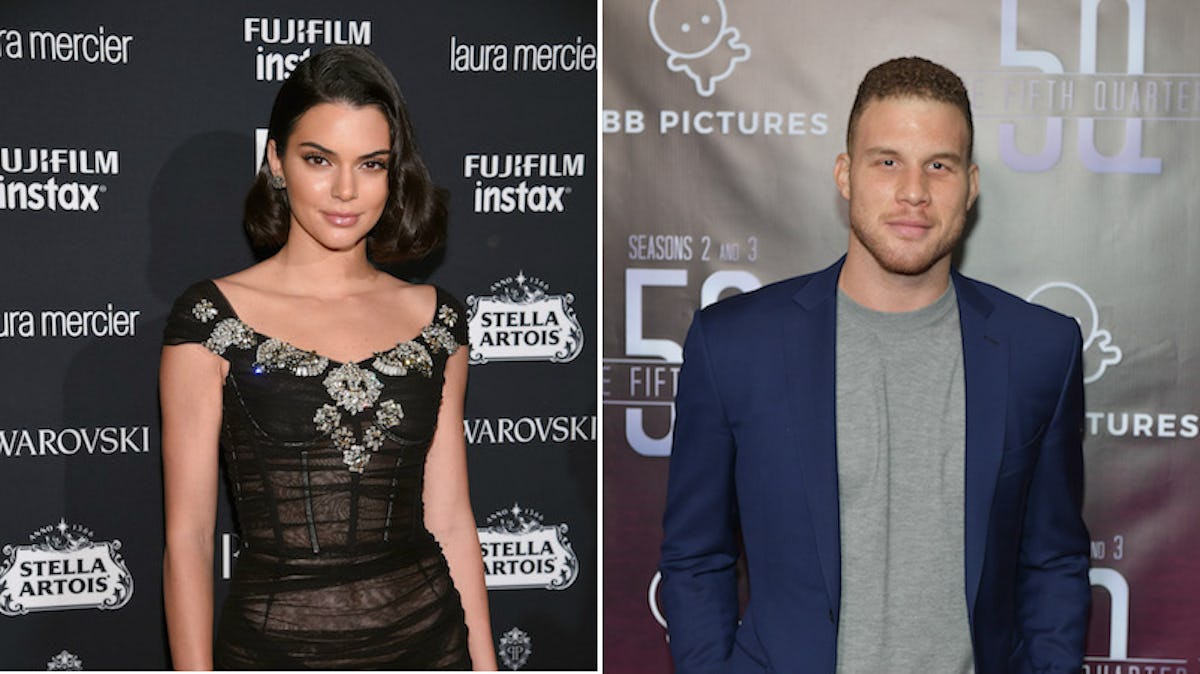 Blake Griffin's Ex Is Suing Him & The Reason Has To Do With Kendall Jenner
Dimitrios Kambouris/Neilson Barnard/Getty Images Entertainment/Getty Images
Things are about to get pretty awkward for Kendall Jenner, and that's because a lawsuit has been filed against her man. Yup, Kendall Jenner's boyfriend, Blake Griffin, is being sued by his ex Brynn Cameron. Eesh. Apparently, Cameron, the mother of Griffin's children, is claiming that he left her and their two children to be with Kendall. This could get real ugly real fast, people.
According to TMZ, the lawsuit filed on Wednesday, Feb. 14 claims that Griffin walked out on Cameron, "cruelly embarrassing his family with his public fawning over Kendall Jenner."
Elite Daily reached out to Jenner's team and Cameron's attorney for comment surrounding the lawsuit, but did not hear back by the time of publication.
Cameron and Griffin were previously engaged and had dated on and off for eight years, but broke off their engagement just one week before their wedding. According to TMZ, the breakup came after Cameron refused to sign a prenup. Cameron claims Griffin made an oral agreement to "take care of [Cameron] financially and provide her a home for the rest of her life" in 2013.
Cameron's attorney Bryan Freedman told People magazine that the "mere concept that Blake Griffin would disregard his promises to the mother of his two children is not only legal actionable but morally reprehensible. He can play above the rim but not above the law."
Reportedly, after Cameron refused to sign the prenup agreement, Griffin called off the wedding, and Cameron claims Griffin "immediately embarked on a high-profile affair with [Kendall Jenner]. The next weekend, on what would have been his wedding day, he was partying in Vegas," according to TMZ.
Cameron claims that because Griffin supposedly left her and their children for Kendall Jenner, she is struggling to make ends meet financially. According to Complex, the lawsuit says,
While Griffin is continuing to earn millions from his NBA and endorsement deals, Cameron and their children are homeless and cash-strapped. In Griffin's absence, Cameron's brother has had to provide Cameron and the children with financial support.
While the amount Cameron is suing Griffin for remains unclear, I'm going to take a guess and assume it's a pretty penny. According to TMZ, Cameron "wants millions."
It seems that Kendall Jenner and Blake Griffin were first thought to be an item back in September 2017, when they were spotted out at dinner in New York City together. Since then, Jenner has been regularly attending his basketball games (Griffin plays for the Los Angeles Clippers), and even cheered him on at a game that took place on the same day as the Victoria's Secret Fashion Show. So I *think* it was pretty safe to say that they were officially the real deal at that point.
Back in October 2017, a source told US Weekly that the two were a "full-on couple":
They're legit. They're a full-on couple ... Kendall has been going to a lot of his games and they have been enjoying time at home when Blake is in town. They're good.
Another source claimed that they saw Jenner and Griffin with sis Kylie and her man, Travis Scott, in October at Universal Studios' Halloween Horror Nights, and they looked "really loving and cuddly":
Kylie and Kendall were both really loving and cuddly with their boyfriends ... Both couples were almost always holding hands or had their arms around each other.
So, what does this mean for Kendall and Blake's relationship? Will this lawsuit only make them grow stronger together, or will the stress of it all weigh down on the relationship?
Nothing's for certain, but we do know that Kendall is a really strong person who has been courageously candid about her struggles with anxiety and panic attacks, and if she can get herself through those issues, she can get herself through anything.
Here's hoping that it's smooth sailing for everyone involved in the lawsuit, and that a peaceful agreement is reached.