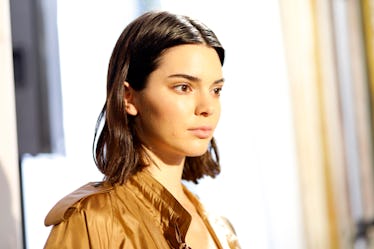 Kendall Jenner DGAF About The VS Fashion Show, Goes To Her BF's Basketball Game Instead
Tristan Fewings/Getty Images Entertainment/Getty Images
Who needs a runway when you've found love? While Kendall Jenner's bestie Bella Hadid was busy posting pictures from The Victoria's Secret Fashion Show, Kenny was busy cheering on her new boo-thing at his basketball game. If you've been asking yourself, "Who is Kendall Jenner dating?" you've come to the right place. The answer is a man by the name of Blake Griffin, and he's the first real guy linked to Jenner in a long-*ss time.
Back in September, Griffin and Jenner were spotted stepping out for dinner in New York City. According to new photos, the two seem to still be a "thing." The Kardashians have somewhat of a reputation for dating famous musicians and athletes, and Kendall is jumping onto that bandwagon. Griffin is a professional basketball player for the Los Angeles Clippers, and on Monday night, Jenner attended her fourth game to cheer him and his teammates on.
If you've never heard of Griffin, here's the drive by: The 28-year-old Oklahoma native is pretty damn good at basketball. Six years ago, Sports Illustrated named him One Of The Greatest Rookies Of All Time, and he's since gone on to score more than 10,000 points during his time with the Clippers. He's also the father to two kids ages four and one, which he co-parents with his ex, Brynn Cameron.
As a cool little plot twist, he also has an affinity for comedy, and once performed in Montreal's Just For Laughs Comedy Festival. You also might have seen him pop up (totally naked) in the hit comedy series Broad City. Star Ilana Glazer told James Corden,
He's really funny and smart and was down. He's really funny, just happens to be like a 6'10", great, amazing basketball player. But he's also very funny. He was smart and, like, in it.
We found out that he was a fan of the show, and then we thought of this storyline ... and we were like, 'Please do it.' And then he was down.
AND THAT'S JUST WHAT THE PUBLIC KNOWS ABOUT HIM! What other treasures Kendall might have access to, we can only guess.
Jenner saddled up to his game on Monday night rocking her new staple outfit: slouchy, expensive boots tucked over jeans. At a previous game, she wore a pair of very chill $10,000 Saint Laurent Boots decked out in billions of sparkles, which I think might be a distraction to the basketball players, but then again, I'm literally not a famous person, so what do I know?
On Monday, Nov. 20, Jenner brought along friend Hailey Baldwin to the game. The two were photographed sitting courtside looking both casual and goddess-like at the same time.
According to a source who spoke with Us Weekly, Griffin and Jenner's relationship is the real deal. They said,
They're legit. They're a full-on couple. Kendall has been going to a lot of his games and they have been enjoying time at home when Blake is in town. They're good.
Still, if fans expect to see him pop up on the family series, Keeping Up With The Kardashians, then they shouldn't hold their breaths. Back when Jenner was linked to A$AP Rocky, a source told Hollywood Life,
They're both committed to keeping their relationship private, and out of the media spotlight. It's also unlikely that cameras will catch them engaging in any kind of PDA — that is if they can spot the cameras in time.
Ugh. Fine.
We're just happy that Kendall seems happy, and that Blake seems like a hilarious, talented, funny (rich?) guy.
Go team!
Check out the entire Gen Why series and other videos on Facebook and the Bustle app across Apple TV, Roku, and Amazon Fire TV.