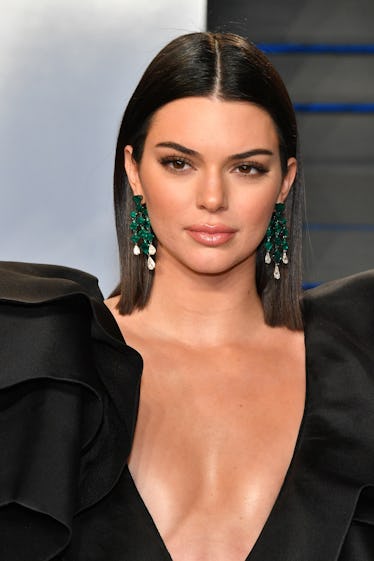 The Reason Why Kendall Jenner Didn't Do Any Runway Shows Last Season Is Really So Sad
Dia Dipasupil/Getty Images Entertainment/Getty Images
Kendall Jenner is opening up more and more about her life, her career, and how she handles it all. But with her candor comes some sadness, unfortunately. The 22-year-old model recently spoke with LOVE magazine about her anxiety and how it affects her both professionally and personally. So, now fans finally know the reason why Kendall Jenner didn't do any runway shows last year. And, as you can imagine, her recollection of that period is quite sad.
In her interview with LOVE, Jenner explained that last runway season, she was a bit overwhelmed and needed to take a breather.
"Last season I didn't do any shows," she told the magazine. "Just 'cause I was working in LA and I was like 'Oof, I can't right now — I'm gonna go crazy.' I was on the verge of a mental breakdown."
Although Jenner opened up about her struggles, she was quick to take a step back and acknowledge what a great life she lives in spite of everything.
"I live a very extraordinary life," Jenner said. "I wouldn't change it for the world but there are days where I wish I could walk outside and nothing would be like it is right now."
Jenner has been struggling with anxiety for quite a while now. Back in January 2018, she opened up to Harper's Bazaar about how the state of the world induces her anxiety and what she wishes she could do to remedy it:
I have such debilitating anxiety because of everything going on that I literally wake up in the middle of the night with full-on panic attacks. Where do I even start? Everything is so horrible, it's hard to name one thing. I just think that the world needs so much love. I wish I had the power to send Cupid around the planet, as cheesy as that sounds.
Part of the problem, she said at the time, was all the negativity she and others encounter online.
You go online and you see everyone saying the worst things to each other, and it's hard to stay positive. It's hard not to get eaten alive by all the negativity.
No wonder she feels overwhelmed! I mean, yes, her life is awesome and she gets to do things most people wouldn't ever have the opportunity to do, but she's human just like anyone else. Of course she gets anxious! Of course she gets overwhelmed! There's a lot on her plate as a public figure, so it makes sense that she would feel the pressure of it all sometimes.
Even Jenner's big sister Kim Kardashian has her back when it comes to public pressure and dealing with anxiety. In a recent spat with a hater on Twitter who called Jenner a slew of names, Kardashian referenced her sister's condition:
Do u know Kendall? She's the complete opposite & is the most generous,compassionate person I know! Her being standoffish is anxiety that paralyzes her which u take as rude! Only a despicable, entitled,unsympathetic,sadistic, uncharitable @self-absorbed human would write this.
So, all of this stuff really seems to weigh on Jenner. Can't blame her. It's a lot to grapple with!