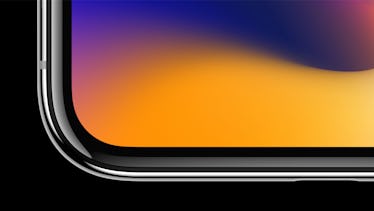 10 iPhone X Tips You Need To Try Once You Have Your Hands On The New Device
Apple
The iPhone X is one of Apple's most exciting new releases. The new futuristic phone is compact, yet packed with tons of jaw-dropping features you have to see to believe. From Face ID to a missing Home button, there's a lot of newness to get used to with the iPhone X in hand. That said, keep reading for iPhone X tips you need to try as you start to play around with your device. In fact, you should probably just bookmark this post to save yourself a Google.
Let's rewind for a sec to the moment Apple blew our minds during its enlightening Sept. 12 keynote in Cupertino, California. The device, the tech company told its shocked audience, was a celebration of a decade's worth of iPhones.
Packed with never-before-seen features, the iPhone X is more than just a phone, and that's the message Chief Design Officer, Jony Ive, reiterated in a statement uploaded to the Apple Newsroom shortly after the keynote's end on Tuesday, Sept. 12. "For more than a decade, our intention has been to create an iPhone that is all display. The iPhone X is the realization of that vision," Ive said. The statement continued,
With the introduction of iPhone ten years ago, we revolutionized the mobile phone with Multi-Touch. iPhone X marks a new era for iPhone — one in which the device disappears into the experience.
With a seamless edge-to-edge display and uninterrupted screen, there's nothing but an all-glass body standing in the way of some of the iPhone X's coolest components. Again, it can be a little tricky to adjust to the new look and feel. As such, here are those tips to ensure you're a total iPhone X pro.
1. Use Face ID To Unlock
Unlock your iPhone in a jiff using Face ID. Once you have Face ID set up, all you need to do to unlock your device is raise it to your face, look at it, and swipe up to arrive at the home screen. It's that easy! Plus, get this: On the iPhone X, notification previews are hidden by default until you glance at the device, so nobody but you can read what's on your lock screen.
2. Swipe Up To Go Home
To get to the home screen at any time, swipe up from the bottom edge. There's no physical button to press, but the motion sort of takes place in the same spot.
3. Switch Between Apps, Two Ways
Switching between apps requires a similar motion. Swipe up from the bottom edge but pause to reveal the App Switcher. You can also swipe from left to right to re-enter apps you were using before.
4. Take A Screenshot
To take a screenshot, press and release the Side button and the Volume Up button at the same time. (Different again, because of the whole missing Home button situation.)
5. Force Restart In Three Steps
Force restarting the iPhone X is slightly more complicated than it was with previous iPhone generations. It requires three easy steps:
Press and release the Volume Up button.
Press and release the Volume Down button.
Press and hold the side button until the Apple logo appears.
6. Turn Off The iPhone X Easily
Turning of the iPhone X is super easy, too. All you need to do is hold the Side button and the Volume Down button until you're given the option to swipe to turn it off. Once you swipe, your phone is officially o-f-f.
7. Ask Siri A Question
To initiate Siri, press and hold the Side button. Siri is much more intuitive with iOS 11, so I recommend bringing her into the conversation more often. She can even be your translator now!
8. Create And Send Animojis
Quite possibly the most awesome feature available on iPhone X, Apple's animated emojis — aka Animojis — mimic your facial movements for a super cool talking emoji effect. To send someone an Animoji, go to your iMessage apps and select the Animoji icon. From there, choose your emoji and hit record. When you've recorded the perfect Animoji, press send.(Anyone can receive an Animoji, so don't worry about compatibility issues. Even people without iPhones can watch them as .MOV files via MMS!)
For real LOLs, check out the hilarious video someone made turning popular movie scenes into Animojis. Or, better yet, participate in some Animoji Karaoke.
9. Pay With Apple Pay (And Face ID)
Ready to pay using Apple Pay? Double click the Side button on your iPhone X. This pre-arms Apple Pay. Next, look at the screen so Face ID can make sure it's really you. Lastly, hover your phone over the terminal.
10. Enter Emergency (SOS) Mode
To call emergency services quickly, hold the Side button and either the Volume Up or Volume Down button for six seconds. You can also enable the five-click option in "Settings," which does the same thing but only requires five clicks to the side button to initiate.
There are so many fun new features to play with on the iPhone X that this list barely scratches the surface. However, it's a solid start for those of us who are confused without the familiar aesthetic of past iPhone models. Cheers to the future (and finally having Portrait Mode on the front-facing camera)!