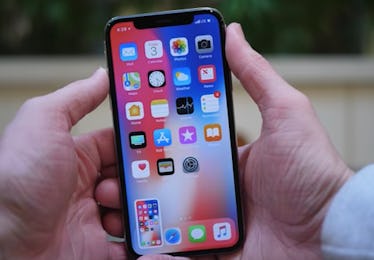 You Can Still Take Screenshots On iPhone X Without A Home Button, So Don't Panic
By now, you've learned that Apple's iPhone X has some major technological upgrades. If you were lucky enough to get your hands on your very own iPhone X, you might be noticing that cool, new features like Face ID have come at the cost of features like the Home button (there is no Home button). It seems like a small price to pay in order to unlock your phone with just your face (like you're James Bond or something) until the time comes when you need to take a screenshot of an adorable puppy meme. Your old method won't work — but don't worry, because you can easily learn how to take screenshots on iPhone X without a Home button.
Screenshots are very important. I can't remember when I learned how to take them, but I know that I've used the method daily ever since. Anyone who has taken a screenshot knows that the Home button is a very important part of it; heck, it's one-half of the two-button maneuver. The all-glass design and edge-to-edge display create the iPhone X's sleek aesthetic, but cause a little trouble when it comes to taking screenshots, because there's no Home button.
Well, worry not, because there is a solution. According to CNET, to take a screenshot on the iPhone X, all you have to do is hold down the Side button (on the right side of the phone) and the Volume Up button (on the left side of the phone) at the same time, and then bam! You've got a screenshot. When this happens, you'll know you've successfully taken a screenshot because the image will appear in the lower lefthand corner of your phone, Digital Trends reports.
Also, you can now do more with your screenshots thanks to the iOS 11 update. You know how when you take a screenshot, the image would be saved to your camera roll, forever cursing you with those "Storage Almost Full" updates? Well, get ready to free up some space, because with iOS 11, you can send a screenshot of the latest Selena Gomez and Justin Bieber news to your bestie and then immediately delete the image without having to save it.
Beyond making room in your camera roll for all the photos you'll inevitably take this holiday season, the screenshot editor also lets you do more with your screenshots other than just sending the latest hot gossip. When you tap on your screenshot, it will pull up a variety of methods with which you can edit it. Among the editing tools, you can write on it, crop it, and magnify it. You'll be able to personalize your screenshots like never before.
Screenshots aren't the only thing that the iPhone X is changing. Touch ID is also a thing of the past (again, along with the Home button), and iPhone X users are getting used to unlocking their iPhone X with the facial recognition technology used in the new Face ID. It might take a little getting used to, but you're also getting cool new features and wireless charging.
So, if you're familiar with the old screenshot method of pressing down the Home button and the Side button, then all you're really doing is swapping out the Home button for the Volume Up button. Not too difficult, but it's also not something you think about until you need it. If you're a new iPhone X owner — as well as a serial "screenshotter" (guilty) — then you'll definitely want to get this new screenshot method down pat.
Check out the entire Gen Why series and other videos on Facebook and the Bustle app across Apple TV, Roku, and Amazon Fire TV.