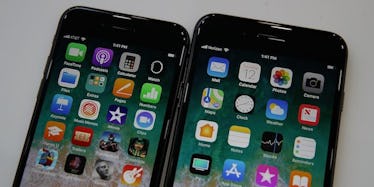 5 Awesome iOS 11 Features That'll Inspire You To Update Immediately
Justin Sullivan/Getty Images
UPDATE: Apparently, Apple's new emoji collection is not immediately available with iOS 11. However, it's been reported the new emojis will come at the end of 2017, so stay patient.
EARLIER: The iPhone 8, iPhone 8 Plus, and iPhone X are coming to an Apple store near you later this fall. Many people are already planning to wait in lines for hours and even days to try and score their favorite new device. For those of us who do not want to spend hundreds of dollars on a phone — or who don't want to wait in ridiculously long lines — maybe a better alternative would be to just update our iOS. As of Tuesday, Sept. 19, the new iOS is available to be downloaded for all Apple users and the iOS 11 update offers awesome new features that'll make you get rid of all those memes you have been saving for months.
The only downside is if you have you have an older model iPhone or iPad including the iPhone 5, 5c, or iPad 4 or older, your device will not be compatible with the new update. Newer devices that have been purchased in the past few years will have no issues updating.  Another thing to keep in mind is before you update your iOS, make sure you update all of your apps because once the update is installed, your older apps might not work properly or at all. Check out five of the coolest features on iOS 11, below.
Awesome New Emojis
Early this summer, Apple announced that they'd be releasing 56 new emojis come fall 2017. The announcement fittingly came on World Emoji Day and iOS users couldn't contain their excitement. Included in the 56 emojis is the mind blown, t-rex, zombie, and hijabi emoji, among others.
Think about the texting possibilities when you get these new emojis. Your group chats are going to be so fun.
Siri Translator
iOS 11 promises to help users communicate with people they wouldn't be able to normally thanks to a new and improved Siri. The Siri on iOS 11 will be able to translate different phrases to French, German, Chinese, Spanish, and Italian. All you have to do is say this command "how do you say" followed by your desired phrase and then end it by saying "in Italian" or whichever language you prefer.
So aside from being a great therapist, Siri can translate five different languages.
Ad Blocking Capabilities
How annoying is it when you online window shop on your favorite site, and then the clothing you didn't purchase, follows you around all over the net? Well, thanks to iOS 11, this worry will be a thing of the past. Safari on iOS 11 has a new feature that stops ad firms from creeping on you while you browse, FINALLY!
Type To Siri
Translating five different languages isn't the only new thing Siri can do. If you're in the middle of something important where you can't speak to Siri, but you just have to ask her a question, you can type your question to her on iOS 11. To enable the "Type to Siri" capability on iOS 11, all you have to do is the feature within the accessibility settings.
Just a fair warning, this feature isn't foolproof and there is a chance that Siri might respond out loud, so be careful what you ask her.
Customizable Control Center
You know when you're trying to quickly set up your alarm for the next day, and you have to go through what feels like a million apps just to find the alarm? Well, with iOS 11, you can now make the alarm its very own widget. But if you don't like the clutter on your screen, iOS 11 offers users a control center that displays more widgets at one time. No more struggling to find what you need.
IDK about you guys but I'm about to delete all of my photos to make space for iOS 11 on my phone.