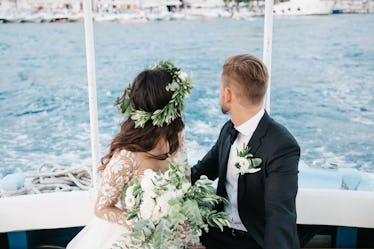 If You're Thinking Of Eloping, Remember These 4 Things
It's no secret that planning a wedding can be a stressful, expensive ordeal — so it's no surprise that some couples choose to go rogue and elope. Eloping feels inherently romantic, allows you and your boo to call all of the shots, and best of all, is far less likely to leave you saddled with major debt. Plus, you won't have to make awk small talk with that second cousin you haven't seen in years. But if you're thinking of eloping, there are so many important things to consider. After all, tying the knot in secret comes with a slew of both perks and pitfalls, and the more you prepare yourself for all of the possibilities, the better your chances of kicking off newlywed life on a positive note.
BTW — if you're eager to elope, you're not alone. A 2018 study conducted by OnePoll revealed that a whopping six in 10 couples who got married within the previous year had seriously considered it. For many couples, it ultimately comes down to saving money — and when you consider that the average wedding in 2018 cost $44,000, according to the Brides American Wedding Study, it makes sense why many people would be tempted to skip the traditional ceremony and reception. Besides, Joe Jonas and Sophie Turner eloped, and if they're not #couplegoals, I don't know who is.
But before you start filing for that marriage license, here are some must-know considerations for ensuring a smooth, successful elopement.