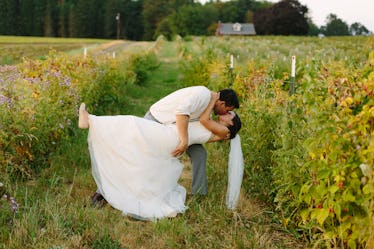 The Destination Wedding Location You'd Love, Based On Your Zodiac Sign
Destination weddings are like a big party and a lavish vacation all tied up in a pretty knot. Of course, when tying the knot in a faraway place, there can be a lot to consider when choosing the perfect destination wedding location. From finding a beautiful hotel to trying amazing foods and exploring exciting new places — planning a destination wedding can be a ton of fun. And if you're dedicated to having a destination wedding, but not quite sure where you want to spend your special day, it can be super insightful to see how your zodiac sign can help you choose your perfect location.
When planning your destination wedding, your zodiac sign can be totally indicative of the best place for you and your spouse-to-be to say "I do." Whether you're a strong-willed Leo that probably wants to exchange vows in front of a ton of people or a hardworking Capricorn that likes to #ball #on #a #budget hunny, it can be fun to see how astrology can play into your wedding planning — especially when tying the knot in a land far, far away.
Here's the perfect destination wedding location for you, based on your zodiac sign.