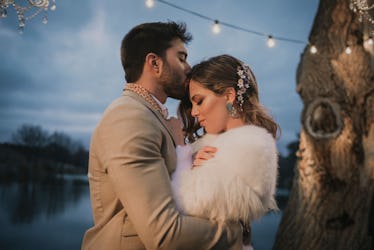 6 Wedding Planners Reveal The Dreamiest Weddings They've Ever Created
What is it that makes a wedding downright magical? A breathtaking venue helps, of course, as does a thoughtful theme, sumptuous floral arrangements, a memorable menu, and enchanting decor. In short: It's all in the details. So, searching for some dreamy wedding ideas? Lucky for you, six wedding planners are revealing some serious inspiration from their archives.
Regardless of whether you plan on tying the knot someday or not, you've likely been captivated by the photographs of a particular wedding. I'm talking about the stuff of fantasies — the kind of wedding that makes you believe in fairytale romance. Perhaps it was an acquaintance's winsome winter wedding, which you spotted snowy pics of while scrolling through Instagram. Or, perhaps it was an A-list celebrity's glamorous destination wedding that you saw photos of online. Alternatively, you may have come across photos of a complete stranger's charming church wedding in a glossy magazine and found yourself lingering on the captivating spread. The fact of the matter is, many of us can't resist drooling over someone else's big day. Not only does it provide some major inspiration for when we potentially plan our own nuptials, but it also offers a much-needed escape from everyday life.
For most wedding planners, it's pretty challenging to pick favorites among the many events they've been a part of orchestrating, but here is a handful that six pros can't stop dreaming about.