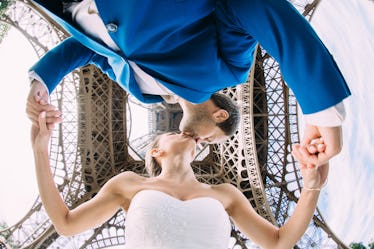 These 13 Stunning Photos Of Destination Weddings May Just Change Your Nuptial Plans
For some couples who are planning a wedding, it's important to have the ceremony close to home. They want to be near the familiar when they embark on their new lives together. But for others, their wedding day represents the beginning of a new adventure together — and for these duos, only something a little more exotic and further abroad can do their love justice. Only a destination wedding will do! And honestly, when you see all the stunning photos of destination weddings out there, you can understand why. There's just something so bold and exciting about a wedding set in such a picturesque or even iconic location.
The venue you choose really does set a mood and helps tell a love story, so choosing a place with history, or even just a particularly beautiful backdrop, is a powerful way to tell your personal love story with just an image. After all, once the wedding day ends, those photos — and, of course, your love — is what lives on forever. Which is why these images of absolutely gorgeous destination weddings, taken in various places around the globe from world-famous locales to breathtaking vistas, just might have you rethinking your own wedding plans.