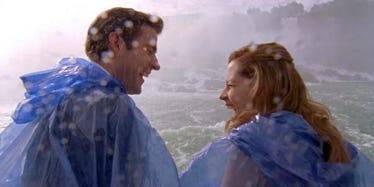 4 Reasons You Should Totally Ditch Your Fairytale Wedding And Elope Instead
NBC
When I was younger, having a big, gigantic, out-of-this-world wedding was a non-negotiable idea. I wanted the long, flowing dress, the 300-person guest list, the flower arrangements that would strain necks looking up at their incredible height.
I thought the only way to consecrate a marriage was to throw a party that looked like it belonged on the cover of US Weekly. It seemed like a requirement to invite every single person I could think of and pay over $200 a head for them to eat, drink and be merry in the name of my everlasting love.
Now, the more weddings I attend (and as a professional bridesmaid, I go to a lot), the more that idea embarrasses me. The more aisles I watch brides walk down and reception tables I sit down at, the less I want a big fat wedding.
I've been weighing the pros and the cons of eloping and, so far, my list has been pretty pro-heavy. Here are a few reasons to consider ditching the elaborate wedding of your childhood dreams and running off to elope to the person of your dreams, instead.
You'll save a lot of cash.
There's something pretty compelling about getting married without blowing $30,000 on a celebration. Think about what that money could go toward! A new house, a series of vacations, a car or two, really anything the two of you want to splurge on over the next couple of years.
But, the best part is that the money will be spent on you,  not on a couple of hundred wedding guests.
You'll save the drama for your mama.
The amount of tension and stress that stems from planning a wedding is very headache-inducing. When I think about planning a wedding of my own, I nearly break out into hives.
I'd like to avoid the drama that comes if you can't afford to invite all your friends to the wedding or have cousins break out into a fight mid-ceremony. 
You'll prolong the honeymoon period.
Planning a wedding puts a ton of stress on the couple, too.
Ditching the full-blown wedding planning and eloping will save more time to plan an awesome honeymoon. It will also strengthen the relationship, since there won't be any wedding decisions or bickering about money during what should be the "honeymoon phase."
You can still have the wedding of your dreams.
Even if you toss the idea of a big wedding, it doesn't mean you still can't have the wedding of your dreams. The idea of eloping with just a handful of my closest friends and family by my side, eating a reasonably-priced meal afterward, is still something that makes my insides jitter with excitement and happiness.
When I finally meet my Mr. Right, I have a feeling I'll laugh at my once non-negotiable idea of an over-the-top wedding that would cost more than my yearly salary. I'll find myself, side-by-side with the love of my life, surrounded by a handful of friends and family.
Maybe we'll elope somewhere exotic, or maybe it will be simple. Either way, I know I want there to be pizza. And I definitely want to walk down the aisle, however small it is, knowing that I didn't go bankrupt throwing the wedding of my now-outdated dreams.