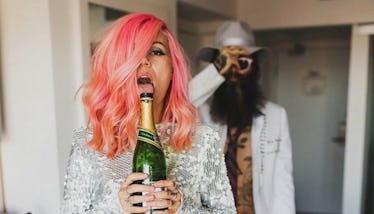 This Hipster Couple's Wedding And Anniversary Photos Are So Badass
Janneke Storm
Ainsley and Sebastien are an unconventional pair: They moved in together after just three weeks of dating and even got engaged in the middle of a photo shoot.
So, it only made sense the images taken at their Las Vegas elopement would be as wild as Ainsley's rainbow-hued hair and Sebastien's scraggly beard.
Photographer Janneke Storm captured the couple's out-of-this-world aesthetic in heavily saturated shots snapped running through Vegas and lounging on a beach in Bali.
Australian native Ainsley first met Canadian-born Sebastien when he served her coffee at a local organic cafe she'd been known to frequent.
She told Rock n Roll Bride it was love at first sight.
The pair exchanged "I love yous" after three dates, and married after spending more than five years together.
Ainsley says many of the shots are testaments to Storm's photographic skill, not planning.
Ainsley and Sebastien were almost late to their wedding officiated by Elvis, so they sprinted through the streets of Las Vegas.
They even stumbled through a patch of wet tar that got on Ainsley's epic, silver-sequined gown.
Ainsley explained the key to the celebration was spontaneity, as evidenced by the pair's matching "Las Vegas" tattoos from the day.
She said, "We had absolutely no idea what we would do that day, we just knew we had to be at our chapel by 2:45 pm."
"This made for a completely stress and pressure free day."
This past November, the pair flew to Bali for a tropical 1-year-anniversary celebration.
They got a team to customize their wedding dress and suit, making them a little edgier for the day.
They hadn't exactly packed for the hot weather, either. According to Ainsley, "beads of sweat started to turn into a thin dirt paste that would cover us and our outfits head to toe for the rest of the day."
Ainsley said the heat wore them down a little, but stopping in for espresso martinis made for a perfect end to the day.
And don't think you've seen the last of this pair...
...Ainsley said, "You can 100 [percent] expect a second year anniversary shoot from us too."
"Only next time we will be heading back to the other side of the globe where things are a little cooler."
Citations: This Couples Un Wedding Will Make You Want To Get Hitched (BuzzFeed ), EPIC LAS VEGAS ELOPEMENT AINSLEY & SEBASTIEN (rock n roll bride)