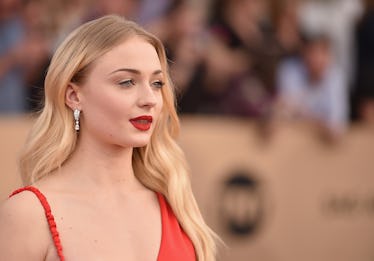 Sophie Turner's Quotes About Joe Jonas Prove She's So, So In Love
Alberto E. Rodriguez/Getty Images Entertainment/Getty Images
Joe Jonas proposed to Sophie Turner on Sunday, Oct. 15, and fans are thrilled to see the happy couple taking things to the next level. Stories about how Jonas and Turner first met (through mutual friends) have been swirling, as fans look for even more details about their relationship. Some of Sophie Turner's quotes about Joe Jonas are beyond sweet, so let's dive into what she's said about the singer over the course of their relationship.
While these two are totally couple goals, they manage to do almost the impossible as celebrities: keep their relationship pretty low-key and out of the spotlight. Even so, Turner has been asked about Jonas in interviews and naturally has had the best things to say about her soon-to-be-husband.
In the May 2017 issue of InStyle magazine, Turner noted that she prefers to "keep things pretty private," relationship-wise, but did explain the upside of dating another celebrity. Turner noted that it's helpful to have someone who really understands, saying:
I found it easier to date someone who understands the industry or is in that world. You realize that you're not going to see each other all the time. And you don't feel like a jerk when you're like, 'My publicist says I can't do this...'
During an interview earlier this year with Marie Claire, when Turner was asked about Jonas, the interviewer noted: "She [Turner] closes her eyes and smiles when I bring up the new boyfriend. 'I am very happy' she says with uncharacteristic restraint."
When asked, "Is he romantic?," Turner responded, "Ummmm, yeah..." and when asked what they think about their couple name "Jophie," she snorted, saying she had heard it but prefers the Game of Thrones Maisie and Sophie mashup of "Mophie." She explained: "What's that thing they say? ... Relationships come and go, but friendship is always there."
Turner did mention one downside of dating another celeb, saying, "You do feel like you're living in a fishbowl. It's frustrating [that] it's the most mundane things that make the news — how boring!"
As for Turner's philosophy on love with Jonas, it's super simple, as it should be. She told Entertainment Tonight at the Game of Thrones Season 7 premiere in July that she's the happiest she's ever been and part of that is Jonas. She explained: "I think the key is to remember that it's just like every other relationship and if you're in Hollywood or if you're in Africa, it's all the same. Just love and be loved."
In July, Turner spoke with ET at Comic-Con, explaining that Jonas was a "good accessory" to bring to the GOT premiere. She also said that she and Jonas don't talk about her character on Game of Thrones (if you can imagine that). Turner said the line of questioning made her blush, adding, "Or I'm sweaty, I can't tell."
Speaking with the UK's The Sunday Times in July, Turner mentioned Jonas when she said: "I'm in a relationship, but it's a very private relationship." She added:
I very much isolated myself for a while and forgot what was fun. Going out with friends, going out to eat, not really having a care. And people I've met recently in my life have drawn me out of that. It really helps you own those insecurities. The things I tortured myself about before, I can forget about.
She added: "I'm happier than I've been in a very long time."
Turner and Jonas shared their engagement news Sunday with Instagram posts showing off her engagement ring as her hand rested on his. She captioned her post: "I said yes," while Jonas wrote, "She said yes."
Oh God, she's going to be a beautiful bride.
Check out the entire Gen Why series and other videos on Facebook and the Bustle app across Apple TV, Roku, and Amazon Fire TV.