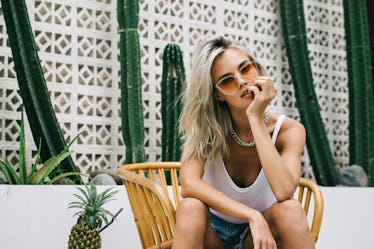 8 Places To Avoid Visiting After A Breakup, Because TBH, It'll Only Cause More Pain
I'm all for reminiscing on the good times, but after a breakup, looking back on the all the memories you made with your ex is probably the last thing anyone wants to do. After you've healed, there's nothing wrong with mentally re-visiting the happiness you shared if you're looking back on it fondly. But when the breakup is still fresh, hitting up all of you and ex-bae's special spots may be a bad idea. There are just some places to avoid visiting after a breakup if you want to be able to heal properly and move on.
"All your feelings are legitimate," Holly Brown, a marriage and family therapist, wrote in a blog for PsychCentral. "It's important to feel them fully, and then move on. [But] nursing your grievances indefinitely is a bad habit, because (as the title goes) it hurts you more than it hurts them." By going back to the places that once meant so much to you and your ex, you're nursing that grievance too much, and it may keep you from being able to fully move forward in your life without your ex.
I know how tempting it can be to revisit those special spots. You're hurting, you probably miss your ex, and you think that maybe if you bring yourself to visit the places that were special to you, it will help you move on. But it's the opposite, really. By visiting them too soon, you're not letting yourself come to terms with the breakup. Going back can reopen the wound by reminding you of all those memories before your heart's ready to relive it all. Here are eight places you should avoid until you know for sure that you've moved on.