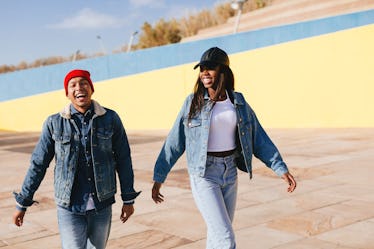 Anxious About Your Next First Date? Try These Strategies To Calm Your Nerves
First dates can be incredibly nerve-wracking, whether you like meeting new people or not. Even though a lot of first dates kind of have the same structure (so you usually know what to expect), it can still be a pretty anxiety-provoking experience. If you, like me, get anxious about a first date, try these strategies to make your next first date less stressful and more enjoyable.
I don't know about you, but I'm constantly going back and forth on my feelings about first dates. Sometimes, I really like the idea of a first date because I can get to know someone who could become a huge part of my life. Other times, the thought of going on a first date makes me want to run as far in the opposite direction as possible. If you're right there with me and ready to sign up as my running partner, fear not. There are solutions!
I spoke to three experts for their recommendations on what to do when first date anxiety strikes. The one thing they all mentioned is to remember that the other person is probably just as nervous as you, so you're definitely not alone. "Fearless first dates don't exist," Fran Greene, Licensed Clinical Social Worker and author of The Secret Rules of Flirting, tells Elite Daily. "They don't exist. It doesn't matter who you are, what you are, everyone is a little bit nervous."
Whether you're cool, calm, and collected, or more nervous than the first day of school, keep these strategies in mind if you get the pre-date jitters.