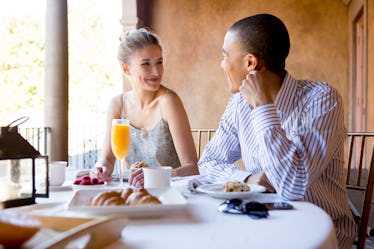 13 Clever Questions To Ask On A First Date, Because You're So Over The Basic Ones
"Ah, yes. Another first date where I'm obligated to ask the same 10 questions I've asked on my last eight first dates. Wonderful." Everyone else who's felt this way about a first date, please say "Aye." Awesome, now that we're on the same page, I have incredible news for you. Your first-date questions don't have to be the ones you recycle through every time. There are clever questions to ask on a first date that'll make your next one seem like less of the same old, same old, and more of the new, new.
But before we get to that, let's talk about first dates for a second. Why are they so awkward sometimes? And why are some people really good at them, while I'm here struggling to find the right words, and when I finally do, they come out all mumbly? For those of you who love meeting new people and don't feel any awkwardness at all during a first date, mad props. I envy you. To those who dread small talk and just want to get to the part where you talk about ~real~ things and ride off into the sunset together on a white horse, I'm right there with you.
Unfortunately, since the person you're going on the date with may not want to jump right into talking about the serious things in life, like why they are the way they are and how their childhood contributed to that, these clever questions can serve as a happy medium for both of you. You get to talk about more than just the weather, and they don't have to jump right into their deepest, darkest fears. See for yourself.