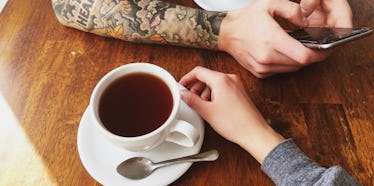 Stop Asking Your Dates About Their Jobs & Try These 6 Creative Questions Instead
First dates always have a bit of awkwardness about 'em. You're usually meeting the person in real life for the first time. You're trying to look and sound presentable. It's not always easy, OK? To ease the dreaded awkward silence and feel as confident as possible, come prepared with this list of questions to ask on first dates so you have something to fall back on, just in case. These are simple, no-drama questions that don't go anywhere near politics or religion, and will keep the convos easy-going and fun. Plus hopefully, you'll learn enough about them to figure out if you're interested enough to go on a second date.
You may already be going into the date with a few person-specific questions: What country are they visiting in that cool third photo; what other songs are they currently listening to, beside the one it shows on their profile already; is that really their dog? But with these additional conversation-starters, you'll have some direction if the natural flow starts to turn stale. And even if there's no romantic connection there, you can still have a fun conversation and banter that'll be fun to share the details with to all your friends later on.