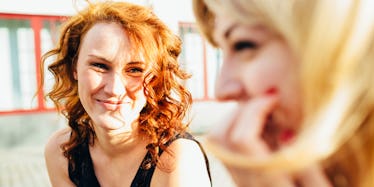 17 Signs You've Found The Love Of Your Life & Will Live Happily Ever After
For a lot of people, finding love is one of the most coveted goals in life. Some say that "when you know, you know" — but falling in love isn't like acing a math test. There's no one right or wrong way to know if you're in love. Sometimes, it's just a gut feeling. Other times, there are signs you've found the love of your life.
Determining the reasons why the person you're with just gets you can be hard to pinpoint, but there are actually a bunch of different attributes and traits that make your special someone (your lobster, your other half, your bae, etc.) a great romantic partner for life. These characteristics aren't one-size-fits-all; what works for you and your partner in your current relationship might not work for your friend, nor would it necessarily work for one of your former relationships. Every connection is unique. Love never expresses itself in exactly the same way twice.
Whether you believe that there's precisely one perfect soulmate out there for everybody or that you can be compatible with a variety of people, love is a beautiful thing. Try to make it through this piece without turning into the heart-eye emoji, I dare you.